PHENOMENON OF ABANDONED VILLAGES AND ITS IMPACT ON TRANSFORMATION OF RURAL LANDSCAPES
Keywords:
depopulation, landscape transformations, land use change, rural settlements, village abandonment.
Abstract
The problem examined in this research is how the loss of rural settlements, small towns, vil-lages and farms contributes to changes in rural landscape and how can this change be managed? The survey was conducted in matching locations in Poland, Slovakia, Germany and in the southern part of Cyprus. The research methods were based on the analysis of source materials and on field analyses in the studied regions. Source research included searching for information in a literature on the subject, as well as planning documents, strategies and studies of spatial development conditions. The main causes of the decline of abandoned rural areas are the decrease in population and migra-tion to cities, the intensification of production and the increase in production areas and the change in the nature of the activities of rural homesteads. The results of the research also show that in addi-tion to common trends comprising the transformation of landscapes in rural areas, each of the ana-lyzed regions differs in terms of the degree of adverse changes, the period in which changes were noted and the possibilities to prevent these changes. In order to prepare a village rehabilitation stra-tegy, a comprehensive diagnosis of whole changes is required, in which the state and causes of landscape changes are determined, and possible solutions for halting rural depopulation are fore-seen.
Downloads
Download data is not yet available.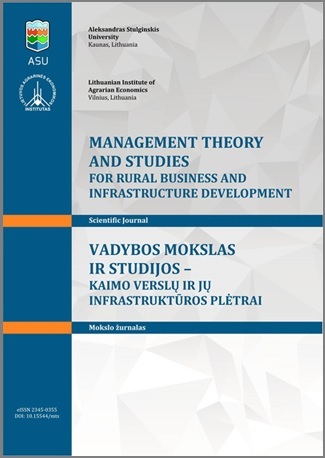 Downloads
How to Cite
Jaszczak, A., Kristianova, K., Vaznonienė, G., & Žukovskis, J. (2018). PHENOMENON OF ABANDONED VILLAGES AND ITS IMPACT ON TRANSFORMATION OF RURAL LANDSCAPES. Management Theory and Studies for Rural Business and Infrastructure Development, 40(4), 467–480. Retrieved from https://ejournals.vdu.lt/index.php/mtsrbid/article/view/196