Current Issue
Vol 40 No 4 (2018)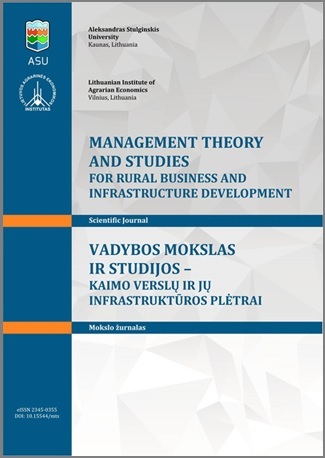 The last journal number of 2018 consist of fourteen scientific articles. The editorial board are proud to announce that the geographical scope of researchers is growing. Published articles has been prepared by scientists not only from Baltic countries: Lithuania, Latvia, Estonia and Poland, but also Eastern Europe and Central Asia: Ukraine, China, Malaysia as well as Central Europe: Italy and Germany, United States.
In this journal number are published a highly important research results related to such topics as bioeconomy development potential from the perspective of innovation economics in European regions; presented the world trends of organic production and consumption; presented model for ensuring the economic security in the agrarian sector, analyzed the concept of research on Logistics management and public networks as well as other research topics.
View All Issues
Management Theory and Studies for Rural Business and Infrastructure Development is the international, peer-reviewed scientific journal is published by Aleksandras Stulginskis University and Lithuanian Institute of Agrarian Economic, the leading institutions of research in agricultural & rural business management and economics in Lithuania.
The aim of the journal is to promote exchange in scientific knowledge by publishing scientific articles in social sciences areas: management and administration, business studies, public administration, economic, as well as application oriented, practically and / or theoretically associated with the countryside, agriculture and its infrastructure. There could be also published theoretical articles in the previous mentioned fields.