Faustian Bargain and Cultural Policy
Keywords:
Faustian Cultural Policy, Faustian Bargain, suzerain and vassal dialectics, Odysseus, Mephistopheles, Cvirka
Abstract
The article deals with one of the topics of the cycle "Faustian Cultural Policy," namely "The Faustian Bargain," which briefly describes what is considered cultural policy: the social struggle for meanings and values. Other parts of the cycle are "Faustian Transgression" and "Faustian Politics." The purpose of this article is to discuss the intentionality of pre-reflection, the conscious contract, and its continuation or attempts to avoid the consequences of the bargain. The concept "Faustian Cultural Policy" and the corresponding bargain are associated with both personal and social or even state decisions and their consequences. The Faustian Bargain is considered presumably equivalent to an agreement to the contract between the stronger and the much weaker parties for exclusive privileges for the weaker, deferring payment for an indefinite future and thus gaining access to the naivete of the weaker, thereby making him dependent. The Faustian typology is borrowed from the texts of Johann Wolfgang von Goethe and Oswald Spengler, although the literary works of Christopher Marlowe, Klaus Mann, Thomas Mann and Ernst Junger as well as the agreements of Albert Speer and Petras Cvirka with totalitarian authorities are also discussed. The article compares the Odysseyan and the Faustian types of Western culture; discusses the dialectics of suzerain and vassal; the proximity of the Faustian spirit to gambling and betting; and the personal drama that completes such transactions. As for the ways to overcome the consequences of the bargain, there is a distinction between moral self-determination and mastery of the game. However, only moral self-determination in the presence of other people is considered as a real way of liberation, while at the same time both Machiavellianism and the doctrine of Realpolitik or the conception of Nietzsche's Ubermensch are worthy of criticism.
Downloads
Download data is not yet available.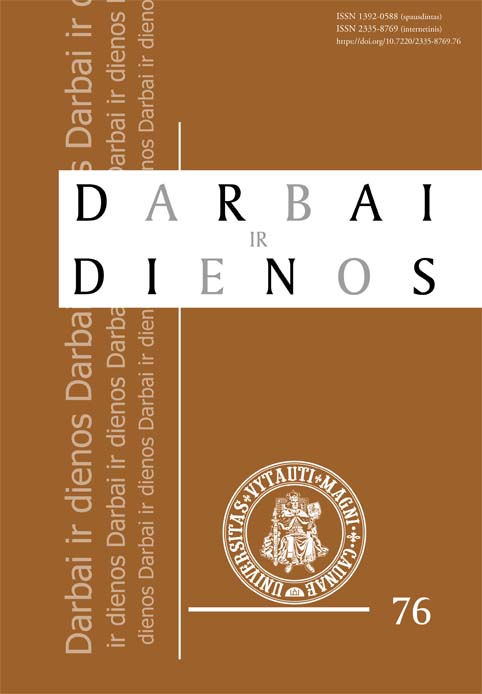 Downloads
How to Cite
Mažeikis, G. (2021). Faustian Bargain and Cultural Policy. Deeds and Days, 76, 15–31. https://doi.org/10.7220/2335-8769.76.1