About the Journal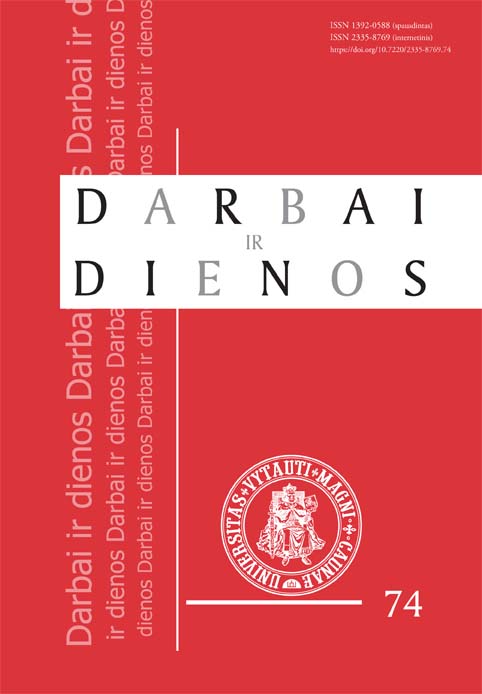 About the Journal
Deeds and Days is an interdisciplinary biannual peer-reviewed journal in Humanities and Social Sciences, named after the poem by Ancient Greek author Hesiod. It has been published by Vytautas Magnus University in the pre-war period of 1930–1940. After reopening of the university in 1989 the journal reappeared in 1995 and has been published up to now.
Recently it has been published in both electronic (http://ejournals.vdu.lt.) and paper format. It is an Open Access journal using the platform of (Open Journal Systems) without any paper processing charges, its authors retain their copyright.
Aims and Scope
The objective of Deeds and Days is to provide an appropriate platform for conceptual discussions, theoretical developments and specific findings in a wide range of disciplines in the fields of Humanities, Social sciences or any other interdisciplinary related research areas. It fosters modern methodological approach that allows a deep reflection on topics of paramount importance for state and society.
Deeds and Days aims at papers of Lithuanian and foreign authors that provide novel and original research valuable for its insights and results for a wide research community. Interdisciplinary research is highly prefered.
Topical Issues
Although any topic based on original and methodologically sound research is welcome, papers in the area of Lithuanian studies have a priority. The object of Lithuanian studies deals specifically with the history, culture and society of Lithuania. However, any research can be treated as valuable for the Lithuanian studies as long as it promotes and influencies the development of Lithuanian societal, cultural and scientific issues.
Overall Structure and Genres
The journal has a trinomial structure. It is made up of a special topic section that deals with one major topic, problem or phenomenon per issue. Papers of that section form a kind of monograph and are thematically related. The section of unrelated research papers can include any paper within the scope of the journal. The third part is mean for publication of previously unpublished archives or any other materials that can serve as a source for future research. It can also include review articles, position papers, overviews, short polemic and essay type of papers related to the Humanities and Social Sciences in general and Lithuanian studies in particular.
Reviewing Policy
Reviewing policy is predertemined by trinomial structure. Reviewing of a special topic section is responsibility of an invited co-editor who compiles that part based on a previous scientific discussion, seminar or conference. Individual papers are reviewed by the members of the editorial board, editor-in-chief included, or invited reviewers. Each paper is reviewed double-blind by two reviewers. In case of their disagreement a paper is sent to the third reviewer. Final decision concerning publication is taken by the editor-in-chief.
Ethical Issues
Editors comply with the following standards of academic ethics: authors are required to provide original unpublished and unsubmitted research based on accurate data and authorship, editor-in-chief does not publish in the journal, all the standards of academic integrity in the process of submission, reviewing and publishing are observed, the journal is registered in the CrossRef system, all the submitted papers are check with the plagiarism prevention program CrossCheck.
Languages
Lithuanian, English, German and French are full-text publication languages, keywords and abstracts have to be written both in the language of a full-paper and English.
Abstracting & Indexing
DATA BASE LITUANISTIKA – since 2001
CEEOL (Central and Eastern European Online Library) since 2004 
EBSCO (Central & Eastern European Academic Source) since 2007
TOC Premier (EBSCO list) – since 2008
Sponsorship
The project is funded by the Research Council of Lithuania (LMTLT), the State Programme of Lithuanian Studies and their Dissemination for the period of 2016-2024, agreement No [S-LIP-19-16].
Publisher
Vytautas Magnus University in Kaunas, Lithuania
Editorial contacts: danguole.valance@vdu.lt, ruta.petrauskaite@vdu.lt