Pedagogical Content of Spatial Thinking Geography of Prospective Teachers in AUE and YSU
Muhammad Nursa'ban

Yogyakarta State University, Indonesia

Ryogo Abe

Aichi University of Education, Japan
Keywords:
geography, pedagogic, teachers, spatial thinking, prospective teacher
Abstract
The research aims to describe the level of understanding of pedagogical content of spatial thinking geography of students of prospective geography teachers in Aichi University of Education (AUE) and Yogyakarta State University (YSU).The results of the descriptive evaluation indicate that the majority of YSU and AUE students know and havea good understanding of pedagogical content knowledge of spatial thinking geography. The main obstacle faced by students deals with the teaching ability especially assessment and evaluation as a strategy to know learning outcomes.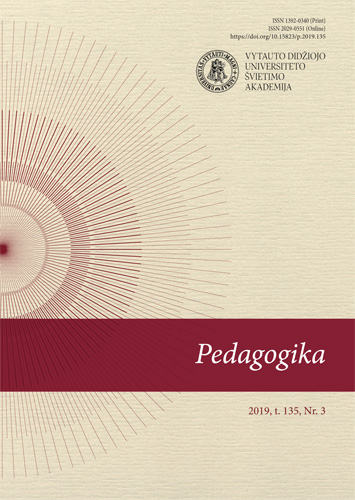 How to Cite
Nursa'ban, M., & Abe, R. (2019). Pedagogical Content of Spatial Thinking Geography of Prospective Teachers in AUE and YSU. Pedagogika, 135(3), 185-199. https://doi.org/10.15823/p.2019.135.10
Copyright (c) 2019 "Pedagogika", Authors
This work is licensed under a Creative Commons Attribution 4.0 International License.