The word and materiality: why do we need things (objects) in novels?
Małgorzata Litwinowicz

Institute of Polish Culture, Warsaw University
Keywords:
Materiality; The word; Things (objects); Culture; Literature; Elaine Freedgood; Method
Abstract
In this article I discuss problems associated with 19th century realistic prose. I start from the way literature transforms real space into reality and endows it with meaning and directions. Then I provide an original review of the materiality of the world of novels. In it I observe that 19th century novels are filled with things the enumeration and naming (more accidental and figurative than catalogic) of which is a non-reductive aspect of such texts. Further on I discuss how these objects should be read, i. e., I decipher their meaning and come up with a new interpretation. Here I won't analyze the (already fully explained) naivete of a mimetic reading (prose does not imitate the world and from it we can't learn anything about "what was" and "how it apprared"; just as images formed out of words, like the ontological statuses woven from them, are weak and fragmentary.
I devote most attention to discussing Elaine Freedgood's conception (my point of reference is her book "The Ideas in Things"). Her method liberates us from mimetic illusions and provides us with an opportunity to discover the metonymic potential in novels. Freedgood treats this as an archives of cultural news which recount their history – they do not constitute either a background for the novel's action or an extension of its heroes' interior or attributes. In Freedgood's interpretation things (objects) enjoy complete subjectivity, which when revealed destroy the novel's framework so that it is placed in a broad network of meanings which yields unexpected connections, and the story is finally read as an inscription producing an effect of these invisible but active connections. I base myself on Freedgood's conception not only because it is original but also because it usefully invites one to read anew the classical prose texts so important to cultural history. This method allows us to step out of the circle of enchanted locality, while the observation of the motion of things (objects) and of the circulation of their meanings inevitably leads us toward the universal relations present in our cultures as connections, written into the very essence of the process of modernization.
Downloads
Download data is not yet available.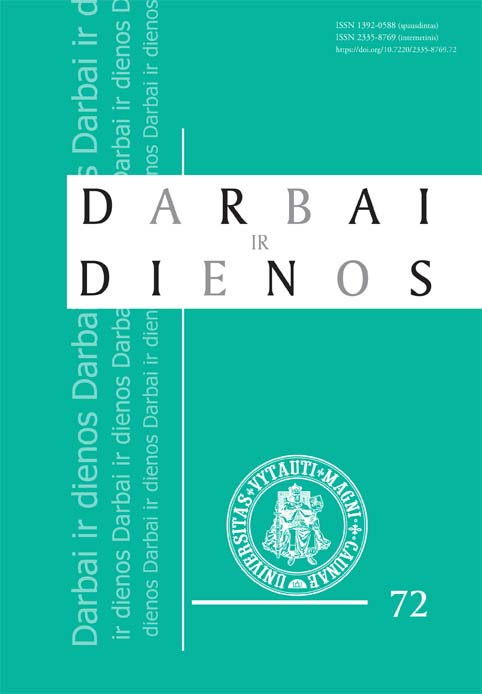 How to Cite
Litwinowicz, M. (2020). The word and materiality: why do we need things (objects) in novels?. Deeds and Days, (72), 139-147. https://doi.org/10.7220/2335-8769.72.9