The image of a father in the contemporary Lithuanian and English problem novel for adolescents
Keywords:
Father; Fatherhood; Adolescent; Problem novel; Migration; Socialization; Identity; Psychosocial development
Abstract
The reflection of the relationship between a child and a father, the role of a father, the sense of fatherhood, and the transformation of these aspects may all be found in the contemporary literature for adolescents. Furthermore, usually the daily life of teenagers and their problems as well as various social realities are represented there. A father, like a mother, is the main institution of a child's socialization, even in adolescence. Therefore, it seems relevant to analyze and interpret problem novels for teenagers, which are not only documents of contemporary teenagers' lives, but also participants in the field of literature for adolescents that dictate and respond to the latest trends of this genre.
In this article, four contemporary Lithuanian and English problem novels about migration are analyzed and compared, focusing attention on their depiction of the following topics: a father and fatherhood, the role of a father in the processes of teenager's socialization, identity construction, and psychosocial development. The study is based on comparative thematology, which is in line with Luigi Zoja's (2006) theory of the historical, psychological, and cultural perspectives of a father. Also, the analysis of problem novels focuses on the main aspects of adolescents' socialization (Broom, Bonjean, Broom 1992; Berns 2009). The study of the selected books has shown that the role of a father in a teenager's life is essentially the same regardless of culture; it does not matter whether the book was written by a Lithuanian writer or by an English one. The analysis of the chosen problem novels also reveals the versatility of the father's images and manifestations of fatherhood: from the father who is performing only the role of a reproducer to the father who fully takes care of his offspring. Based on a comparison of different images of a father, one may conclude that in contemporary problem novels for adolescents the father's authority has partially undergone certain changes, which were determined not so much by historical events mentioned in the article but by the family ideology, social norms and values, and cultural differences. Therefore, in this genre, the frequently used elimination of a father from a child's life is not a tendentious cultural reality which defines the degradation of the father's role in Western culture, but a feature of adolescent literature, the creative author's play.
Downloads
Download data is not yet available.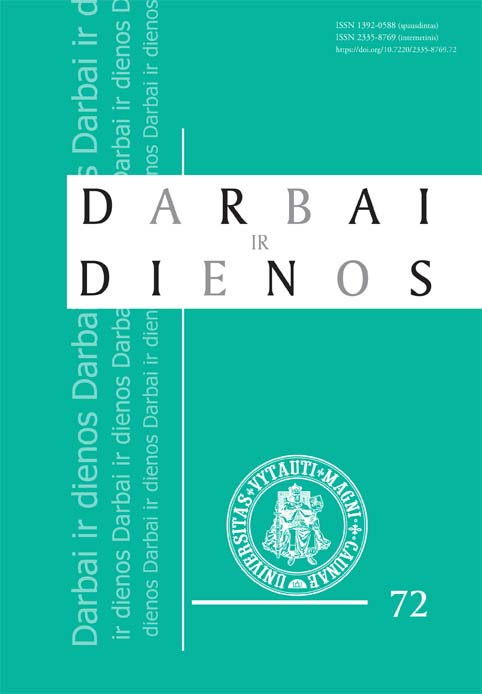 Downloads
How to Cite
Povilaitienė, J. (2020). The image of a father in the contemporary Lithuanian and English problem novel for adolescents. Deeds and Days, (72), 89–102. https://doi.org/10.7220/2335-8769.72.5