The basic principles of policy concerning scholarship and studies and changes in their practical implementation in Lithuania from 1990 to 2018, or why scholarship and studies in Lithuania fail to enter the highway of successful development
Keywords:
Policy on scholarship and studies; Mechanism (model) of forming and implementing this policy; Reforming institutions of higher education (universities); Academic freedom of scholarship; Research; Teaching
Abstract
This article reviews the basic principles of policy concerning scholarship and studies written into the Constitution of the Republic of Lithuania in force from 1992 as well as the versions of these principles adapted to the practice of policy and administration and written into post-constitutional legal acts (state laws, college and university by-laws, etc.). Is the way these principles are formulated adequate to the interests of the Republic of Lithuania, to the declared goals of policy concerning scholarship and studies, and to real possibilities of attaining these goals? Answering this question is tantamount to answering the question raised in the second half of this essay's title. Nearly three decades of continuing and never-ending reforms as well as the openly declared inadequate quality (both on the level of relevant social circles and the academic community and the level of government opinion and valuations by so-called experts) of the way scholarship and studies are constituted and operate show that there must be something wrong with the process of forming and implementing the policy of scholarship and studies and perhaps also in the political principles that under gird this process, or in their practical application.
Downloads
Download data is not yet available.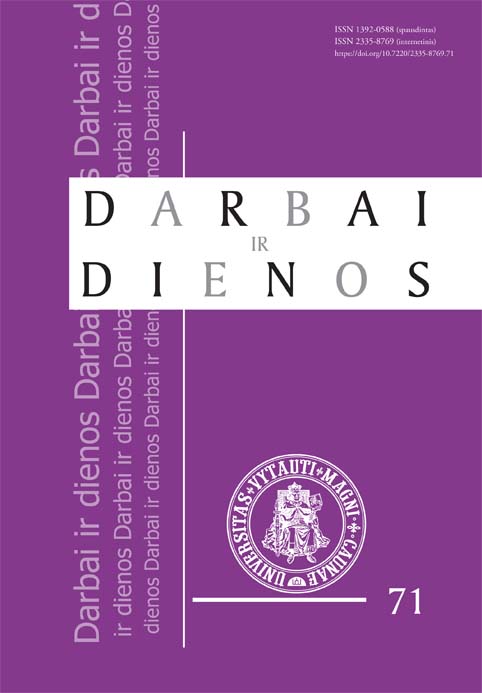 How to Cite
Kulakauskas, A. (2019). The basic principles of policy concerning scholarship and studies and changes in their practical implementation in Lithuania from 1990 to 2018, or why scholarship and studies in Lithuania fail to enter the highway of successful development. Deeds and Days, (71), 103-117. https://doi.org/10.7220/2335-8769.71.5