Because that's how journalists talk: broadcast media's influence on language change in Lithuania
Keywords:
Radio; Television; Language changes; Media influence on language; Linguistic attitudes; Dialects; Vilnius speech; Standard language
Abstract
In the modern world, media have become an organic part of everyday life, which inevitably changes our relationship with language. However, so far there is no consensus in linguistics and sociolinguistics on whether media affect language, and if so, in what ways. So far there is little empirical evidence on media's direct influence on language change – it is usually believed that people do not copy pronunciation or ways of talking from TV and radio or if they do, only in limited ways and under certain conditions. However, media undoubtedly exercise indirect influence – they affect understanding about what language is good and legitimate to use in public, and in this way influence the relative prestige and the future potential of different language varieties. The article presents a review of theoretical approaches to direct and indirect influence of media on language and empirical evidences on their influences from other countries. Then the article uses data from various published Lithuanian sociolinguistic studies to discuss the possible influence of Lithuanian broadcast media on the change of the Lithuanian language. The conclusion is reached that media have contributed to the standardization of Lithuanian and the devaluation of traditional dialects because the latter are not represented in the mainstream media programmes by speakers in serious roles. Recently media have also increased the prestige of the 'lower' Vilnius speech since the pronunciation standard prescribed in textbooks is not fully realized even by media speakers in serious roles, and the speech heard on radio and TV is closer to the variety spoken in Vilnius.
Downloads
Download data is not yet available.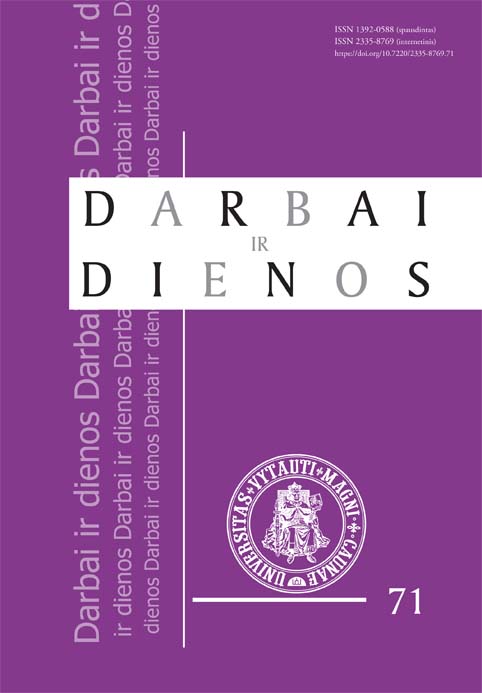 How to Cite
Nevinskaitė, L. (2019). Because that's how journalists talk: broadcast media's influence on language change in Lithuania. Deeds and Days, (71), 83-100. https://doi.org/10.7220/2335-8769.71.4