Evaluation in discourse on crime
Keywords:
Evaluation; Discourse on crime; Evaluative parameters; Combination of evaluative parameters; Inscribed and evoked appraisal; "Russian doll" strategy
Abstract
The article presents a parameter-based approach to the phenomenon of evaluation in the written discourse and examines the texts of Lithuanian popular media about crimes that are not usually treated as belonging to evaluative genres but are interesting in the aspect of evaluation: journalists must adhere to the principles of ethics and the presumption of innocence and use a neutral language, but the subject of writing itself has a strong basis for a negative evaluation because of the common social practice to negatively assess crimes and offenders and thus it is difficult to remain neutral. Taking into account the models of evaluative parameters and some aspects of appraisal theory and using the method of discourse analysis, the texts of discourse on crime are shown as texts which often realize the following evaluative parameters: DANGER (most frequent), SPEED, QUANTITY/VALUE, QUALITY, SOCIAL PROPRIETY, EXPECTEDNESS. The fact that these parameters generalized from real data on a specific topic are different from the evaluative parameters of popular media on other topics confirms the notion that theoretical considerations of the phenomenon of evaluation and practical models of evaluative parameters depend not only on the genre of texts but also on the topic. The results of our research also show that the main contrasts in the texts under investigation is the opposition of law enforcement officer (positive evaluation) and offender (negative evaluation), in contrast to the more conventional opposition in the Western media of offender and victim.
Downloads
Download data is not yet available.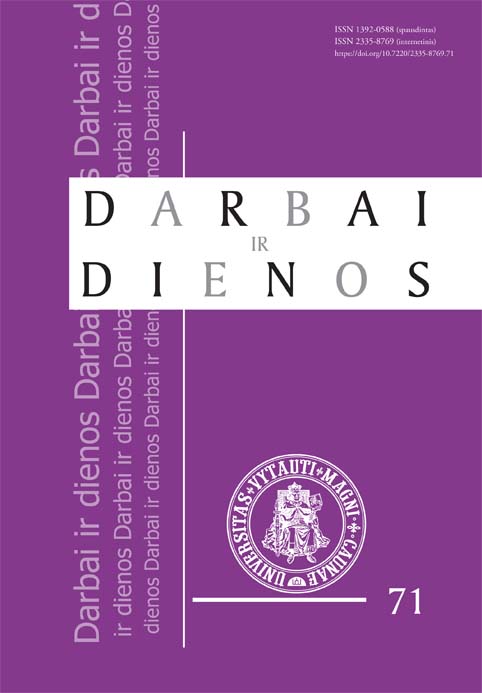 How to Cite
Jakimovienė, S. (2019). Evaluation in discourse on crime. Deeds and Days, (71), 33-60. https://doi.org/10.7220/2335-8769.71.2