Activist memory and human rights: the commemoration of the Roma genocide in Lithuania
Keywords:
Roma genocide, Holocaust, Commemoration, Historical memory, Human rights
Abstract
This paper will focus on the intersection between the emerging memory of the Roma genocide and the human rights agenda in Lithuania. Transnational Roma genocide memory culture can be described as an activist memory. Various memory entrepreneurs fostering Roma genocide memory, especially NGOs, link remembrance to human rights (specifically, the human rights abuses experienced by the Roma communities) and the need to fight antigypsyism. Despite the rapid increase in Romani memorial practices in Europe during the last two decades and the development of activist memory regimes, similar phenomena in Lithuania so far has attracted very little scholarly attention. The paper sets out to address this gap in the literature on activist memory of the Roma genocide in Lithuania. Lithuania's Roma community was severely affected by the Holocaust. Memorial practices focusing on the Roma genocide intensified around 2015, when, following a march by Roma activists and Holocaust survivors in Auschwitz-Birkenau, the European Parliament passed a resolution recognizing a memorial day commemorating the Roma genocide during World War II. In 2019, the Lithuanian government added the commemoration of the Roma genocide to its calendar of commemorative days. This paper will trace the development of the activist memory of the Roma genocide in Lithuania, and it will focus on the following questions: 1) What is activist memory, and what is its relationship to Holocaust memory? 2) Which actors started the creation of activist Roma genocide memory in Lithuania? Which strategies did they use? Were these strategies effective? 3) What is the relationship between the practices of the memorialization of the Roma genocide and human rights, specifically, the fight against strong societal prejudice against Roma in Lithuania? It is argued that the emerging Roma memory regime in Lithuania has found a way to coexist with the local narrative about the Jewish Holocaust. The insertion of the stories about Roma suffering into the Holocaust narrative has helped to hybridize this narrative, turning it into a story about multiple traumas. The hybridization of the Jewish Holocaust narrative was significantly affected by international actors who promoted the inclusion of the narrative about the experiences of the Roma into the Jewish Holocaust narrative. Cooperation involving the Roma and Jewish communities in the coalition to promote human rights facilitated the emergence of his hybrid Holocaust memory.
Downloads
Download data is not yet available.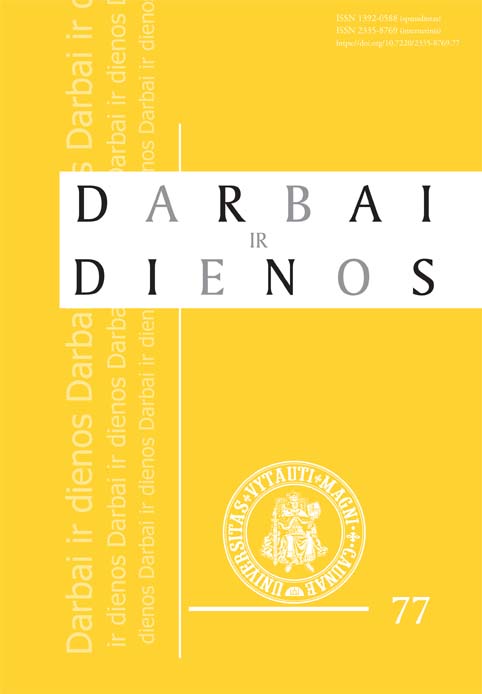 Downloads
How to Cite
Budrytė, D. . (2022). Activist memory and human rights: the commemoration of the Roma genocide in Lithuania. Deeds and Days, 77, 123–142. https://doi.org/10.7220/2335-8769.77.7