The lament in Daukantas's work "BUDĄ Senowęs-Lëtuwiû Kalnienû ĩr Ƶámajtiû"
Keywords:
Simonas Daukantas, Aleksandras Daukantas, Lament, History of the national culture, Language, Rhythm
Abstract
This article discusses the integration of the genre of lament into the history of Lithuanian culture "BUDĄ Senowęs-Lëtuwiû Kalnienû ĩr Ƶámajtiû" (1845), written by Simonas Daukantas (1793–1864). The motifs, which are often found in the work – death, suicide, funeral rites, graves, foreign land, the collapse of cities/nation, are characteristic of the lament, as seen in folklore, antiquity and Christian works. The theme of the work was to reveal the uniqueness and value of the Lithuanian nation and allowed Daukantas to connect the personal destiny of his family with the history of the whole nation. The work began after his brother Alexander (1805–1841), who was arrested by the authorities in Odessa on suspicions of being involved in a secret political anti-establishment organization, committed suicide. The topic and emotionality of the lament genre suited the contemplation of the conflict between his brother, i.e. the moral hero, and Russia's ruthless government. Daukantas was well acquainted with the Classical Antiquity and Christian tradition, where there is an abundance of laments/elegies. Daukantas was interested in Lithuanian folklore and its research. He also prepared and in 1846 published a collection of Lithuanian folk songs. This article for the first time draws attention to the fact that Daukantas relied on the education-focused magazine "Le Catholique", which Ferdinand Eckstein started publishing in 1826. In the first issue of this magazine, the article "On Lithuanian Poetry" (De la poésie des Lithuaniens) not only writes extensively about Lithuanian folk songs, but also pays special attention to the lament. Daukantas, like the Romantics, took an interest in the exalted glorious lost history of his nation in the search for elevated expression. The genre of lament is where the link between death and greatness is especially prevalent. The elevated style was well-suited for the theme of death, loss and grief. It is believed that Daukantas chose the lament as one of the text codes because of the genre-specific themes and because of the grandeur and directness of the linguistic expression that it allowed. The long rhythmic sentences that predominate in the work often resemble a lament, a litany that invites the reader to get involved and participate in the communal ritual.
Downloads
Download data is not yet available.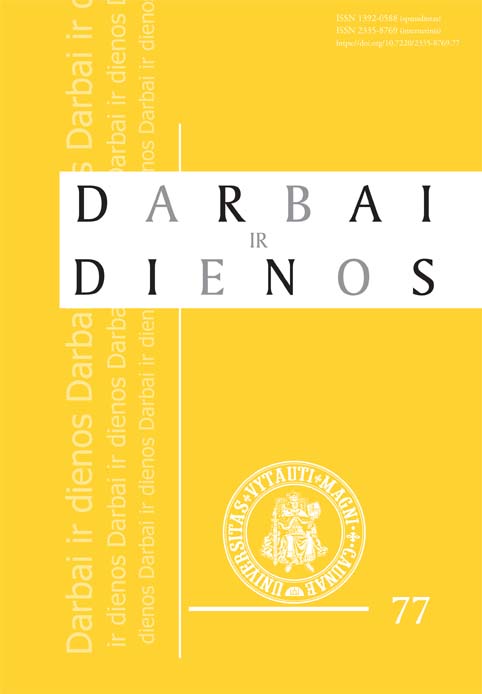 Downloads
How to Cite
Bončkutė, R. (2022). The lament in Daukantas's work "BUDĄ Senowęs-Lëtuwiû Kalnienû ĩr Ƶámajtiû". Deeds and Days, 77, 15–32. https://doi.org/10.7220/2335-8769.77.1