A Sense of Beauty in Children's Literature
Keywords:
children's literature, episodes of the sense (experience) of beauty, aesthetic perception, aesthetic upbringing of children, child addressee
Abstract
Children's literature is most often studied as a discourse that raises and educates a child, conveys ethical values to him. This article looks back at the aesthetic field and examines how Lithuanian and foreign children's literature depicts scenes of the experience of beauty. It delves into the situations in which a child, experiencing beauty, is depicted, how the text conveys the aesthetic experiences experienced by the character, and what other aspects of the sense of beauty are emphasized in children's literature. With the help of numerous examples, various artistic images are examined: the admiration of nature (in the works of Motiejus Valančius, Pranas Mašiotas, Kazys Saja, Christine Nostlinger, Otfried Preussler), a work of art (Bronė Buivydaitė, etc.), other cultural objects (in the works of Hans Christian Andersen, Leonardas Gutauskas, Vytautė Žilinskaitė), artistic images of oneself (in the works of Ramutė Skučaitė and other authors).
The aesthetic admiration of the objects of the surrounding world conveyed in children's literature reveals the inner world of the characters, demonstrates their sensitivity, creates an emotional content, and the memorable atmosphere of a mesmerizing piece of poetry or prose. Such a work of fiction serves a complex process – the aesthetic upbringing of children, the aim of which is to teach children to see, feel, and appreciate beauty. In the context of the child's education, the mix of aesthetic and ethical elements of the piece and the relevance of that mix become clear. The analysis is based on the theoretical approach of Wladyslaw Tatarkiewicz, Antanas Katalynas, Algirdas Gaižutis, and other authors. The methods of literary analysis and interpretation are applied, and an interdisciplinary approach is followed.
Downloads
Download data is not yet available.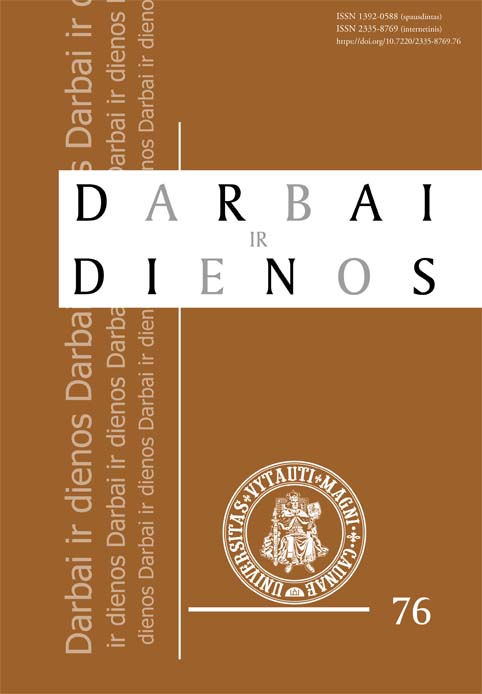 Downloads
How to Cite
Maskuliūnienė, D. (2021). A Sense of Beauty in Children's Literature. Deeds and Days, 76, 57–71. https://doi.org/10.7220/2335-8769.76.4