Jews in the texts of bishop Motiejus Valančius
Keywords:
Motiejus Valančius; Lives of the saints; Temperance movement; The Church; Jews; Anti-Judaism; Anti-Semitism; Canticles; Land of Israel
Abstract
This article aims to describe the attitude that the Lithuanian bishop Motiejus Valančius (1801-1875) had toward Jews. Up to now there was little written on this topic. Only in the diaspora (Vytautas Kavolis) and in contemporary Lithuania (Vygantas Vareikis) was Valančius's anti-Semitism unambiguously identified or, alternately, vigorously denied (Vanda Zaborskaitė) as an erroneous opinion arising out of ignoring the context of most of his writings other than "Paaugusių žmonių knygelė" [Book for Grownups], "Palangos Juzė" [Palanga Joe], and "Vaikų knygelė" [Children's Book]. Thus searching for an unbiased verdict requires looking at all of Valančius's published texts, including his didactic tales, hymnals, catechisms, pastoral letters, political brochures, hagiographic writings, historiographic writings, letters, and his diary "House" "Book" written in Polish. It must be kept in mind that his texts intended for purely religious practice and catechesis had an even greater influence and therefore shouldn't be ignored. An analysis of all of Valančius's texts leads to the conclusion that the bishop did not transcend his epoch but held on to traditional anti-Judaist and anti-Semitic attitudes both in his didactic booklets and political brochures written for public education and in his books intended for catechesis and prayer: everywhere an attitude critical toward Jews shows through. This attitude undoubtedly merged with popular anti-Judaist stereotypes and even reinforced them in the Lithuanian consciousness; they began to fade only during the first period of independence as Lithuanians first encountered their modern Jewish neighbors. But Valančius was not radically antagonistic toward Jews; we see this very clearly in his "House Book". His personal relationships with Jews were pragmatic, and during his Kaunas exile even friendly. In his private life he conscientiously observed the principles of Christian love.
Downloads
Download data is not yet available.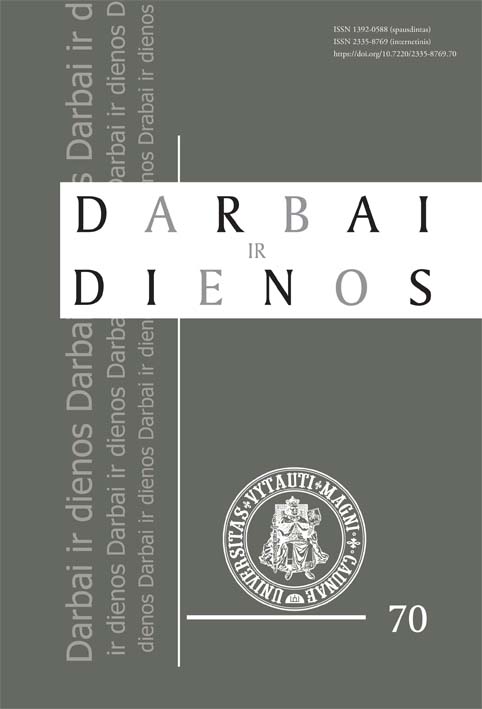 How to Cite
Toleikis, V. (2019). Jews in the texts of bishop Motiejus Valančius. Deeds and Days, (70), 179-233. https://doi.org/10.7220/2335-8769.70.10