The frequency, function, and meanings of onomatopoeias in early childhood
Ingrida Balčiūnienė

Laura Kamandulytė-Merfeldienė
Keywords:
Onomatopoeia; First language acquisition; Child language; Twin language; Typical language development; Atypical language development
Abstract
The aim of the article is to discuss language development (from the beginning to the end of the formation of grammatical system) from the perspective of the use of onomatopoeias, focusing on the change of frequency of onomatopoeias, their meanings, and functions during the period under the present investigation. The research data is comprised of a corpus of six children's language, which was compiled using the method of longitudinal observation. The research has revealed that onomatopoeias are used very frequently in child language. Contrary to some theoretical sources on the meaning of onomatopoeias, they acquire not only the emotive- expressive, but also a nominal meaning: they replace various verbs and nouns. The research has also indicated that onomatopoeias are frequent in child language because of the parents' language influence, emotional and expressive communication environment, iconic nature of onomatopoeias, uncomplicated structure, and simple articulation. In addition, the meaning of onomatopoeias is often broadened, using them to refer to several concepts. The results of the statistical analysis have indicated that the frequency of the use of onomatopoeias is statistically significantly different in typical and atypical (twin) language development: in the case of typical language development, the number of onomatopoeias decreases, while this tendency has not been observed in early twin language.
Downloads
Download data is not yet available.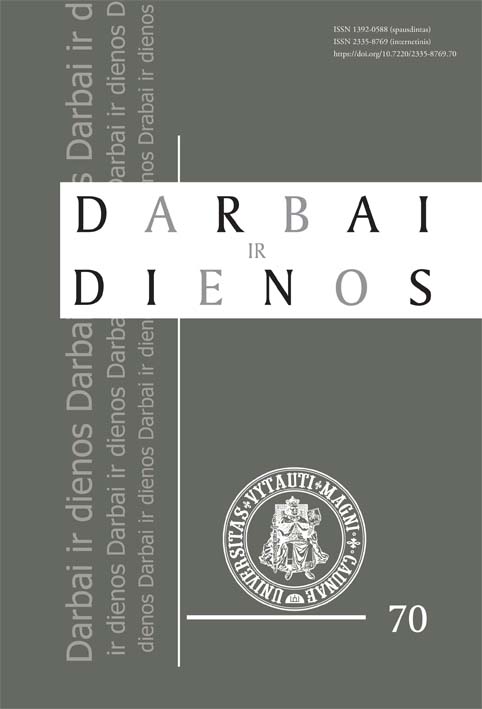 How to Cite
Balčiūnienė, I., & Kamandulytė-Merfeldienė, L. (2019). The frequency, function, and meanings of onomatopoeias in early childhood. Deeds and Days, (70), 11-29. https://doi.org/10.7220/2335-8769.70.1