Headlines in the context of the pandemic: the communication of irritation
Keywords:
COVID-19, Coronavirus, Headlines, Communication of irritation
Abstract
The media attention to COVID-19 was phenomenal in Lithuania as well as worldwide. Information about the coronavirus accounted for almost 56% of the total information flow in Lithuania during the pandemic. Compared to how other events of national importance were covered in the media, the number of media reports about the new virus was more than double. The increasing consumption of media content also increases the threats associated with this phenomenon: the uncritical selection of information, the impact of negative news, etc. The even greater consequences of such threats are implied and imagined in cases where addressees are limited to fragmented information, i.e., headlines rather than articles, media-covered texts found on the front pages of news portals, rather than constructive search-based news items.
This paper presents a study in which headlines were chosen as a research object. The goal of the research was to analyze the headlines on the topic of COVID-19 in different Lithuanian news portals and to find out what functions they perform in the context of the COVID-19 pandemic. Four Lithuanian news portals, namely, "15min.lt", "alfa.lt", 'delfi.lt", and "lrytas.lt', were selected as research sources. The research material consists of headlines under the headings "Lithuania" and "Health" during two periods – the first week of the first quarantine in Lithuania (March 16–23) and the first week of the second quarantine in Lithuania (November 7–14). The total number of headlines analyzed is 2178, and their number in different news portals is as follows: '15min.lt" – 824, "alfa.lt"– 334, 'delfi.lt"– 725, "lrytas.lt'– 295. The study is pilot and purely qualitative: the content of the headlines on the topic of COVID-19 was analyzed with the aim to discover their recurring forms, to capture the tendencies of informing about the COVID-19 phenomenon in the Lithuanian media, and to evaluate the possibilities of further – larger – research in this field.
Downloads
Download data is not yet available.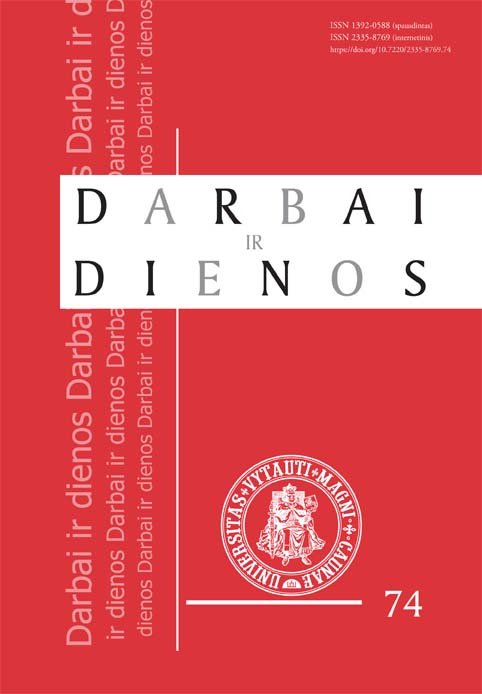 Downloads
How to Cite
Kalinauskaitė, D., & Aleksandravičiūtė-Šviažienė , A. (2021). Headlines in the context of the pandemic: the communication of irritation . Deeds and Days, (74), 181–199. https://doi.org/10.7220/2335-8769.74.9