Deleuze's and Guattari's conception of becoming a minority and disability
Keywords:
Multiplicity, Flight line, Gang, Molar presence, Molecular becoming, Socio-political participation, Stratification of the disabled, Maximization of potential
Abstract
In contemporary philosophy and other branches of the humanities, the situation of minorities is becoming an increasingly discussed topic. Modern society seeks to integrate minorities in such a way that although not meeting the standards of the majority they are able to take pride in their differences. Gilles Deleuze's and Felix Guattari's research, which presents the concept of becoming a minority in their book "A Thousand Plateaus: Capitalism and Schizophrenia", becomes particularly relevant. This article aims to reveal how such groups function and expand. Efforts are also made to show that the group dynamics are directly related to concepts such as multiplicity, affects, assemblages, and other important terms. However, the physical, mental, and psychical characteristics of some members of society are significantly different from those of the majority. The concept of becoming a minority can help to realize that the perception of one's limitations through socio-political participation can open up new opportunities for the disabled. The article seeks to link the concept of becoming a minority with the concept of disability and to determine what has to be the case for the process of becoming a minority to begin. Toward the end of the article we review how the exclusion of the disabled increases, how the social integration practices of the disabled function under quarantine conditions and why becoming a minority becomes impossible during the pandemic.
Downloads
Download data is not yet available.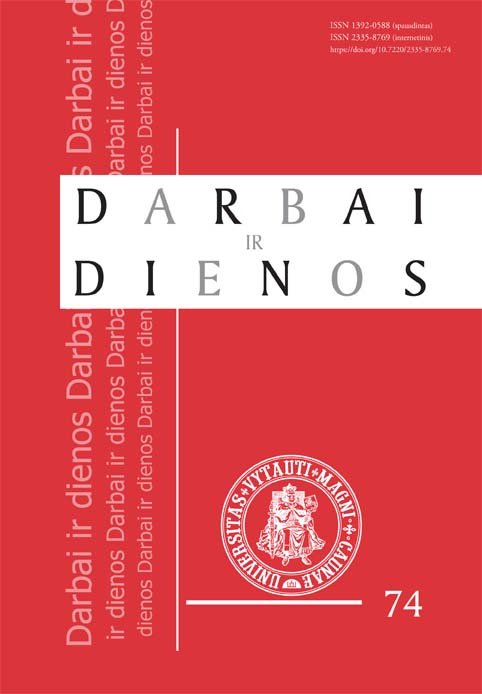 Downloads
How to Cite
Saprykinas , E. (2021). Deleuze's and Guattari's conception of becoming a minority and disability . Deeds and Days, (74), 157–179. https://doi.org/10.7220/2335-8769.74.8