Different worlds? Finding constructive complementarity between academic research and societal impact activities
Keywords:
Social sciences and humanities research, Societal impact of research, Knowledge transfer, Academic motivations, Research evaluation, Academic identity
Abstract
There is growing policy interest in stimulating academic researchers to increase their engagement with societal partners. Understanding of research impact is typically framed by conceptions derived from natural and technological fields. In this article, we scrutinize how prior studies discuss the societal impact of social sciences and humanities (SSH) research. To address the dynamics of academic researchers' engagement with societal partners, we conducted a literature review, asking three questions about (a) motives and ways of engagement, (b) dilemmas and struggles experienced, and (c) strategies to deal with these struggles. Our study reveals that many SSH researchers tend to engage with various societal partners in extra-academic fields, but they experience tensions both on the practical level of limited resources and time and because of idealistic orientations of scientific work that sometimes are incommensurable with societal needs. While researchers might be motivated to engage with societal partners, it is usually means-driven rationality, but ends-driven rationality is for research in itself. Solution is to create conditions where researchers would have intrinsic motivation for engagement when complementarity between research and societal impact activities would be established. On that basis we propose that engagement should be treated as a quality of good research and that creating new academic identities should reflect the values of research communities where engagement is essential.
Downloads
Download data is not yet available.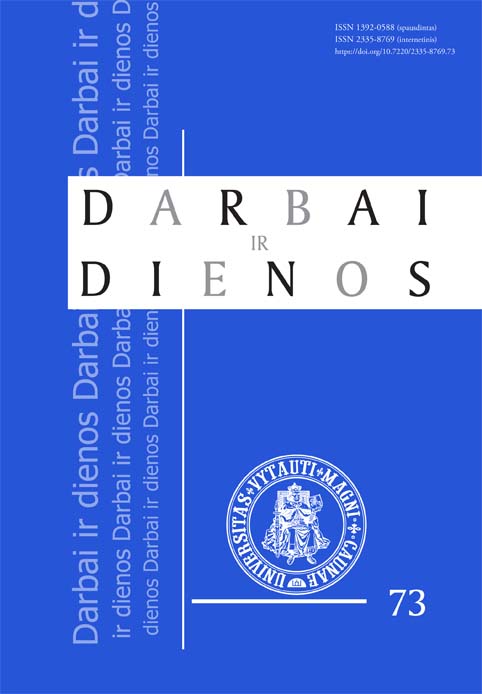 Downloads
How to Cite
Girkontaitė, A., Benneworth, P., & Muhonen, R. (2020). Different worlds? Finding constructive complementarity between academic research and societal impact activities. Deeds and Days, (73), 65–80. https://doi.org/10.7220/2335-8769.73.4