PROSPECTS AND CHALLENGES FOR THE UKRAINIAN AGRICULTURAL MARKET UNDER THE ASSOCIATION AGREEMENT WITH THE EUROPEAN UNION: LEGAL ANALYSIS
Olexandr Radzivill

National Aviation University

Tetiana Minka

University of Customs and Finance

Yurii Sereda

Kyiv National Economic University named after Vadym Hetman

Oksana Strelchenko

National Academy of Internal Affairs

Pyvovar Yuriy

National Aviation University

http://orcid.org/0000-0001-8258-7930
Keywords:
International agricultural trade, Association Agreement, Ukrainian society, Acquis communautaire, Public society, Agriculture, Prospects and Challenges
Abstract
The agrarian sector in global trade, as well as processes related to the liberalization of international agricultural trade, is still a subject of long-standing discussions at the international level. The Association Agreement between Ukraine and the EU, on the one hand, opens up good prospects for increasing the competitiveness of Ukrainian agricultural producers, on the other hand, it causes a lot of difficulties related to the general state of the Ukrainian society. Purpose of the paper is to analyze the international standards for trade of agricultural products, codified in international agreements and specified in the Association Agreement between Ukraine and the EU, as well as in identification on its basis the prospects and challenges (risks) for the Ukrainian agricultural market in the course of this Agreement provisions implementation. In the paper historical-sociological and system-structural analysis have been used, which helped to reveal the fluctuations of eurointegration sentiments in Ukraine and establish their connection with the inertia of unsolved social contradictions inherited since the existence of the Union of Soviet Socialistic Republics, which are particularly visible in a modern Ukrainian village. Comparative-legal, formal-logical and hermeneutical methods have been used in the study of international universal and regional treaties in order to understand the contents of international standards related to international trade and the processes of its liberalization and the specifics of their applying in the agricultural sector during the acting of the General Trade Tariffs-47 and under the auspices of the World Trade Organization. Statistical method has been used to study the data of the Ministry of Economic Development and Trade of Ukraine, which made it possible to assume a social status of rural communities, and others. The result of the research revealed the fluctuations of eurointegration sentiments in Ukraine. The attention has been paid to the duration of the inertia of the unresolved social contradictions caused by those fluctuations. It has been proved that the prospects of cooperation between Ukraine and the EU and ways of their implementation should be understood in the context of historical circumstances that have developed over the previous century and have a powerful inertia of counteracting innovations, reinforced by mistrust between the new elite and the bulk of the impoverished population. The position has been supported that a key to success of reforms in Ukraine is to exclude caste privileges and build a civil society, taking into account the experience of the Western legal tradition. Implementing its European choice, Ukraine should focus not on superficial indicators of well-being that do not have a real basis, but also to master the philosophical-legal context of the acquis of European law in its broadest interpretation.
Downloads
Download data is not yet available.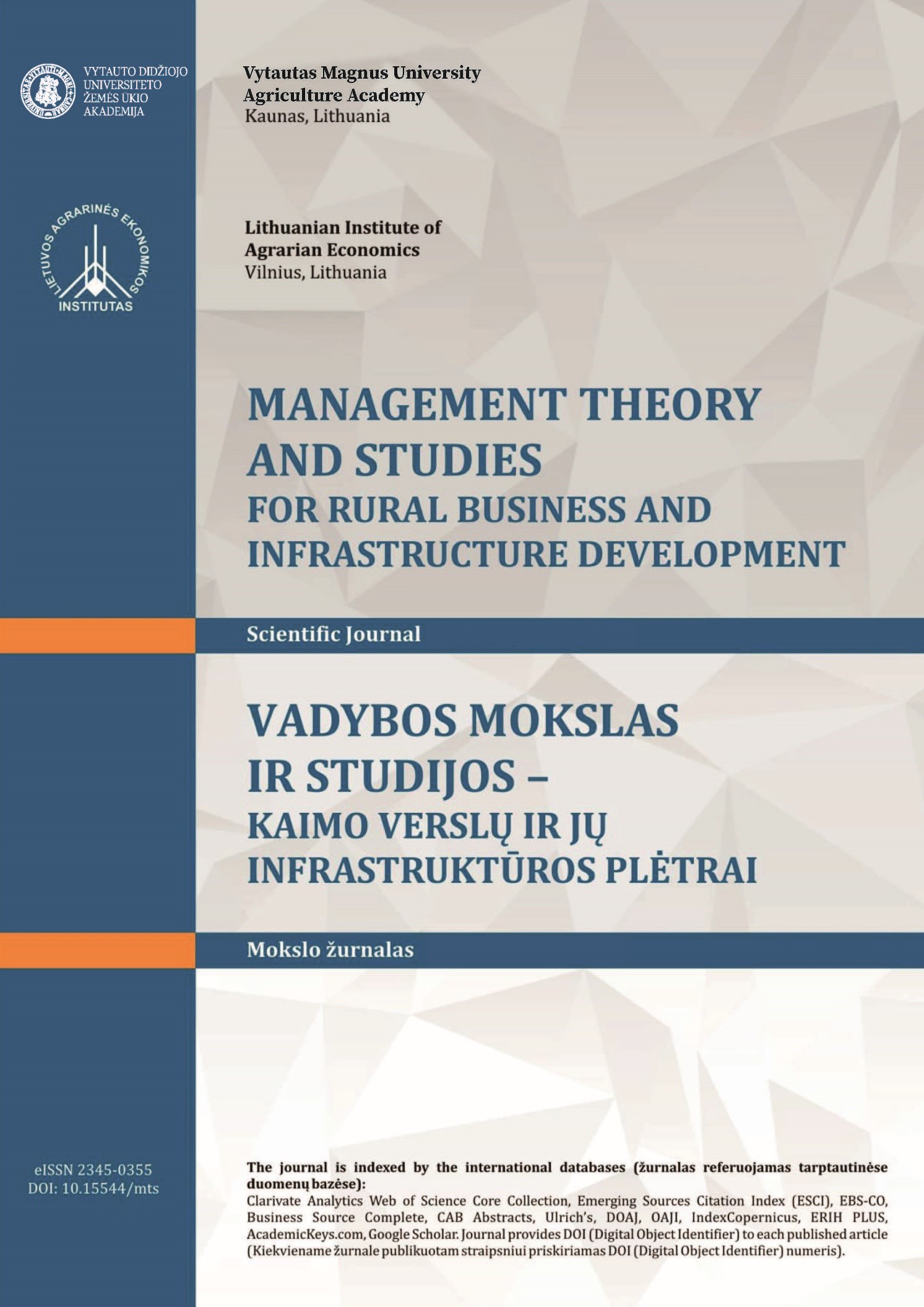 How to Cite
Radzivill, O., Minka, T., Sereda, Y., Strelchenko, O., & Yuriy, P. (2019). PROSPECTS AND CHALLENGES FOR THE UKRAINIAN AGRICULTURAL MARKET UNDER THE ASSOCIATION AGREEMENT WITH THE EUROPEAN UNION: LEGAL ANALYSIS. Management Theory and Studies for Rural Business and Infrastructure Development, 41(2), 153-167. https://doi.org/10.15544/mts.2019.14