CORPORATE SOCIAL RESPONSIBILITY OF AGRICULTURAL ENTERPRISES ACCORDING TO THEIR ECONOMIC STATUS
Olga Popova

Viktor Koval

Odessa Institute of Trade and Economics of Kyiv National University of Trade and Economics

Liudmila Antonova

Anna Orel
Keywords:
economics, social and ecological challenges, corporate social responsibility, earnings, profitability, economically stronger enterprises
Abstract
The problem under consideration in this study is whether economically stronger enterprises, which have more opportunities, are really better at solving social and environmental challenges in the context of corporate responsibility than economically weaker ones. The main emphasis is placed on the basic direction of responsibility that is the relations with employees and landlords, in terms of their material remuneration for their work and the land provided. The levels of corporate social and environmental responsibility in five groups of enterprises are determined depending on the results of their economic activity, that is a volume of profitability and its level as indicators of economic efficiency, according to the information base of 9000 medium and large agricultural enterprises in Ukraine, using the method of statistical groupings. Compared data of the most enterprise groups over the seven-year period, the trends in their corporate responsibility have been estimated. According to the results of the study, agricultural enterprises with a higher level of economic activity didn't differ a lot from the smaller ones in the implementation of socially and environmentally responsible acts. If the earnings per one employee increased in 7 times for the group from I up to V, then the payroll per employee increased by 14%.Employees do not receive the proportional share of the economic growth benefits, thus the primary requirement of economic development is not abided.
Downloads
Download data is not yet available.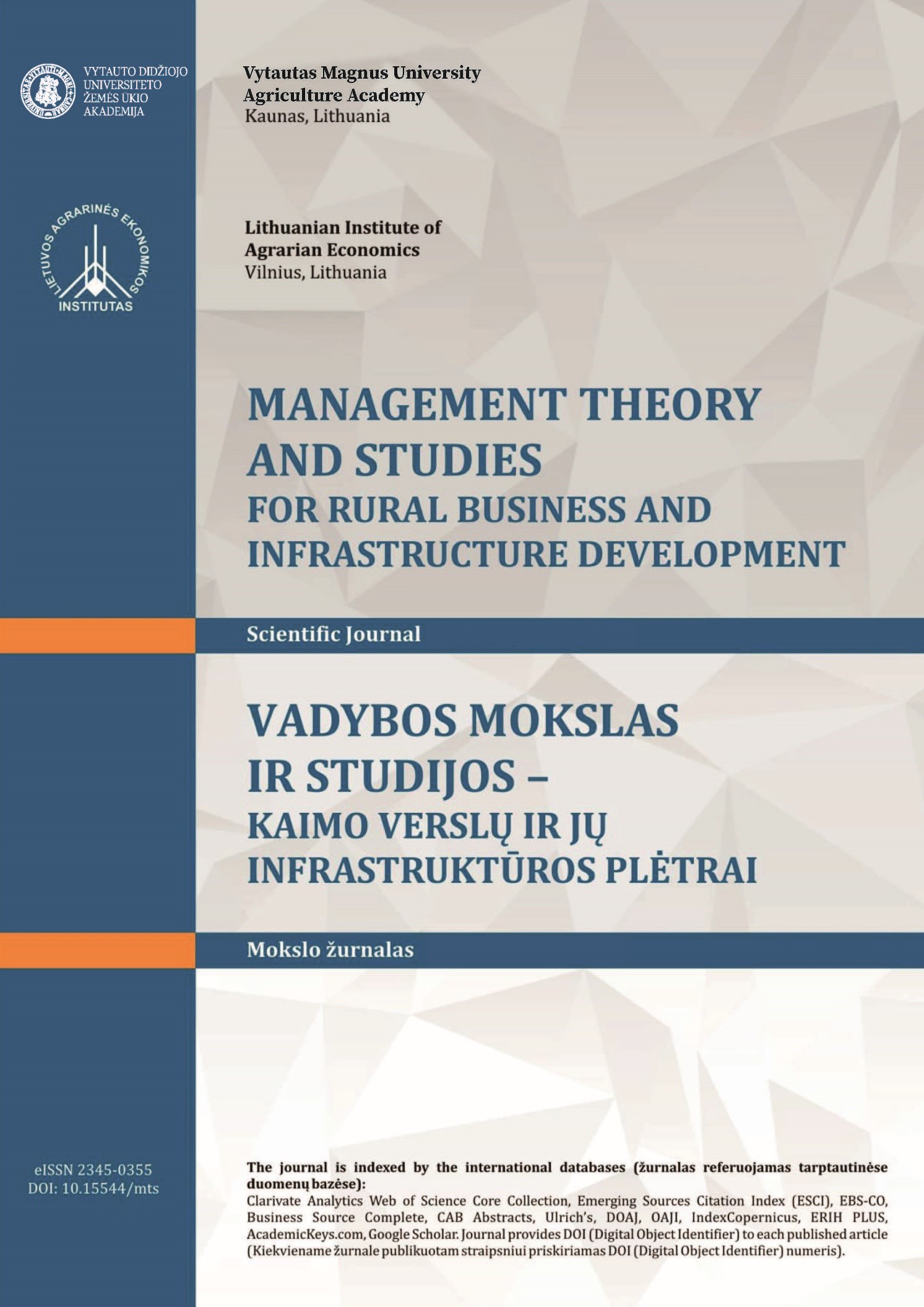 How to Cite
Popova, O., Koval, V., Antonova, L., & Orel, A. (2019). CORPORATE SOCIAL RESPONSIBILITY OF AGRICULTURAL ENTERPRISES ACCORDING TO THEIR ECONOMIC STATUS . Management Theory and Studies for Rural Business and Infrastructure Development, 41(2), 277–289. https://doi.org/10.15544/mts.2019.23