THE WORLD TRENDS OF ORGANIC PRODUCTION AND CONSUMPTION
Yurii Kyrylov

Kherson State Agrarian University

Stanley R. Thompson

The Ohio State University

Viktoriia Hranovska

Kherson State Agrarian University

Viktoriia Krykunova

Kherson State Agrarian University
Keywords:
organic agriculture; organic consumption; organic policy; organic production; supply chain.
Abstract
What global trends do affect the organic sector in Ukraine and what organic policy tools, ac-cording to the international experience, can be implemented for its effective development? The pur-pose of the article is analyzing organic production and consumption trends, to propose directions and tools for their development in Ukraine. Organic production and market growth rates, relation-ship between consumption and income are estimated using the international organizations database. The scientific and other sources are analyzed and summarized. Demand is organic production driver and the availability of appropriate land resources and financing enables its expansion. Different measures aimed at the realizing of competitive advantages in the global market and simultaneous growth of domestic market are to be applied for organic sector development in Ukraine: govern-ment financial support for transformation, certification, products promotion; information and educa-tional activities; fostering collaboration among supply chain agents; the legislation implementation. This article may be used for research, teaching, and economic policy development.
Downloads
Download data is not yet available.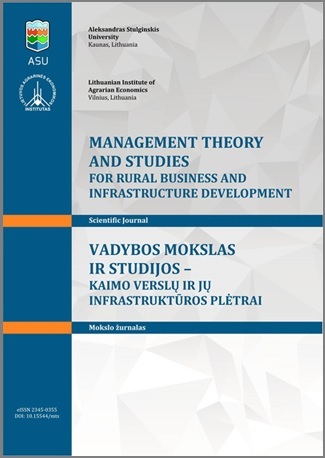 How to Cite
Kyrylov, Y., Thompson, S. R., Hranovska, V., & Krykunova, V. (2018). THE WORLD TRENDS OF ORGANIC PRODUCTION AND CONSUMPTION. Management Theory and Studies for Rural Business and Infrastructure Development, 40(4), 514–530. Retrieved from https://ejournals.vdu.lt/index.php/mtsrbid/article/view/198