ASSESSMENT OF BIOECONOMY DEVELOPMENT POTENTIAL FROM THE PERSPECTIVE OF INNOVATION ECONOMICS IN EUROPEAN REGIONS
Virginija Kargytė

Aleksandras Stulginskis University

Rando Värnik

Estonian University of Life Sciences

Vilija Aleknevičienė

Aleksandras Stulginskis University
Keywords:
innovation economy, bioeconomy development, European regions.
Abstract
The European Commission expects that the development of bioeconomy across the EU will boost its rural and coastal economies. Although these areas have comparatively more spare bio-mass, at the same time they are associated with lower levels of entrepreneurship and R&D activi-ties. One can argue that more urbanized and industrialized regions with higher innovation potential will develop high value added bio-based industries, while rural and coastal economies will remain or become to a greater extent biomass providers. Therefore, the article aims to explore links be-tween regional biomass availability, bioeconomy business cluster and innovation potential, as well as how the development of bioeconomy can evolve in different groups of regions. For this purpose, bioeconomy development factors including aspects of innovation economics are analysed in year of 2016 using data of 237 NUTS 3 level regions of Norden, Western and Central Europe. Research results reveal that analysed regions can not be simply separated into potential bioeconomy devel-opment 'losers' and 'winners', however, several groups of analysed regions have distinctly higher potential in certain bioeconomy fields.
Downloads
Download data is not yet available.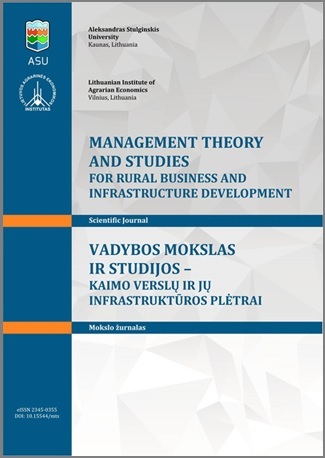 How to Cite
Kargytė, V., Värnik, R., & Aleknevičienė, V. (2018). ASSESSMENT OF BIOECONOMY DEVELOPMENT POTENTIAL FROM THE PERSPECTIVE OF INNOVATION ECONOMICS IN EUROPEAN REGIONS. Management Theory and Studies for Rural Business and Infrastructure Development, 40(4), 492–513. Retrieved from https://ejournals.vdu.lt/index.php/mtsrbid/article/view/197