FACTORS SHAPING ENGAGEMENT OF EMPLOYEES ON THE EXAMPLE OF UNIVERSITY WORKERS
Iwona Zofia Czaplicka-Kozłowska

University of Warmia and Mazury in Olsztyn

Sylwia Stachowska

University of Warmia and Mazury in Olsztyn
Keywords:
employee engagement, employee engagement factors, human resources management.
Abstract
Motivating leads to implementation of particular organizational objectives, to shaping engage-ment and loyalty of its members and, consequently, to raising effectiveness of their actions. Properly constructed solutions in the area of employee motivating process may result in several benefits for an organization, which is also appropriate for public institutions, including the academic ones. The main goal of the research presented in this study was to assess factors shaping engagement of employees of the University of Warmia and Mazury in Olsztyn. The research aimed at achieving the goal was carried out using questionnaire method among the group of workers who were not the academic teachers. The conducted research confirmed that motivation and commitment of employees are influenced by a variety of factors in such areas as: attitude to work and organization, learning and development, relations with superiors, communication and cooperation, work organization and also rewarding and motivating. In the surveyed organization, the last of the indicated areas was rated the most critically, which indicates the need to improve solutions in the scope of the incentive system, with particular emphasis on the employee remuneration system.
Downloads
Download data is not yet available.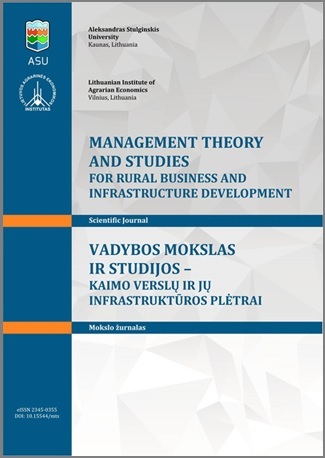 How to Cite
Czaplicka-Kozłowska, I. Z., & Stachowska, S. (2018). FACTORS SHAPING ENGAGEMENT OF EMPLOYEES ON THE EXAMPLE OF UNIVERSITY WORKERS. Management Theory and Studies for Rural Business and Infrastructure Development, 40(4), 455–466. Retrieved from https://ejournals.vdu.lt/index.php/mtsrbid/article/view/195