ECOLOGICAL SETTLEMENT AS A SELF-GOVERNMENT MODEL IN RURAL AREAS
Kemble Walker

University of Sydney

Mariia Plotnikova

Zhytomyr National Agroecological University
Keywords:
administration; ecological villages, family homesteads, family homestead settlement, rural communities, self-governance, smart-community, social cohesion.
Abstract
There is a clear need in rural areas for improved methods of self-government. This study examines the most effective approaches to administration in rural communities. What are the most promising types of rural community management? We aim to assess trends in rural selfrehabilitation and development, including an international analysis of ecological and family homestead settlements as models of future society. These models represent an evolution of the traditional village capable of improving the population's quality of life. Family homestead settlements are the most common form of ecological settlement in Ukraine and foster family values, patriotism to the Homeland and effectively demonstrate successful self government practices. Governance is achieved by way of the Veche, a collective authority, as well as through public organizations, public-private partnerships, regional and international cooperation.
Downloads
Download data is not yet available.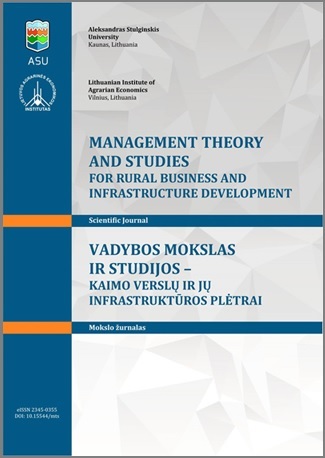 How to Cite
Walker, K., & Plotnikova, M. (2018). ECOLOGICAL SETTLEMENT AS A SELF-GOVERNMENT MODEL IN RURAL AREAS. Management Theory and Studies for Rural Business and Infrastructure Development, 40(3), 416–423. Retrieved from https://ejournals.vdu.lt/index.php/mtsrbid/article/view/123