SOCIALIZATION OF EDUCATION AS A MEANS OF CHANGE OF THE PARADIGM OF SUBJECTS DEVELOPMENT OF THE AGRICULTURAL SECTOR OF ECONOMY
Keywords:
socialization of education, social responsibility, neoses, higher education institutions, continuum of generations, subjects of the agrarian sector of the economy.
Abstract
This article summarizes the arguments and counterarguments within the scope of a scientific discussion on the issue of socialization of education as a means of the paradigm of the efficiency of managing the agrarian sector of the economy. The main purpose of the study is to highlight the peculiarities in the development of the socialization of education and its impact on the development of subjects in the agrarian sector. It is shown that the role of higher education institutions is not only in the providing of educational services, but also in informing higher education graduates of values recognized in society, and integration of youth in society. It is proved that in higher education institutions it is possible, through their main functions, to promote the ideas of social responsibility that contribute to the balance of peace, and well-being in society.
The research of this issue in the article is carried out in the following way: domestic and foreign experience; affiliation to a generation and educational process; formation of skills of socially oriented direction; the dominant tendencies of socially oriented development in higher education institutions of Ukraine; integration and effective development on the basis of holistic development as a new type of development of society.
The research used the following methodological methods: historical and logical (study of theoretical views on the essence of socialization of education), monographic (studying the peculiarities of formation and best practices of the development of socialization of education in other countries of the world), system-structural analysis and synthesis (studying and generalization of structural proportions and shifts in the socialization of education of subjects of the agrarian sector of the economy). The study period covers the years 1922-2020.
The article presents the results of empirical analysis and the importance of the socialization of education as a new paradigm in the development of society, as well as generalized modern scientific approaches to its formation. It is substantiated that on the basis of socialization of education, a close relationship with the level of moral development of the personality of a future specialist is formed. It is proved that higher education institutions in the process of their own activities bear direct and indirect social responsibility for the effective use of public resources, ensuring the unity of education and upbringing, the inclusion of learners of higher education and academia, research and teaching staff in a variety of social practices (their social responsibility).
Downloads
Download data is not yet available.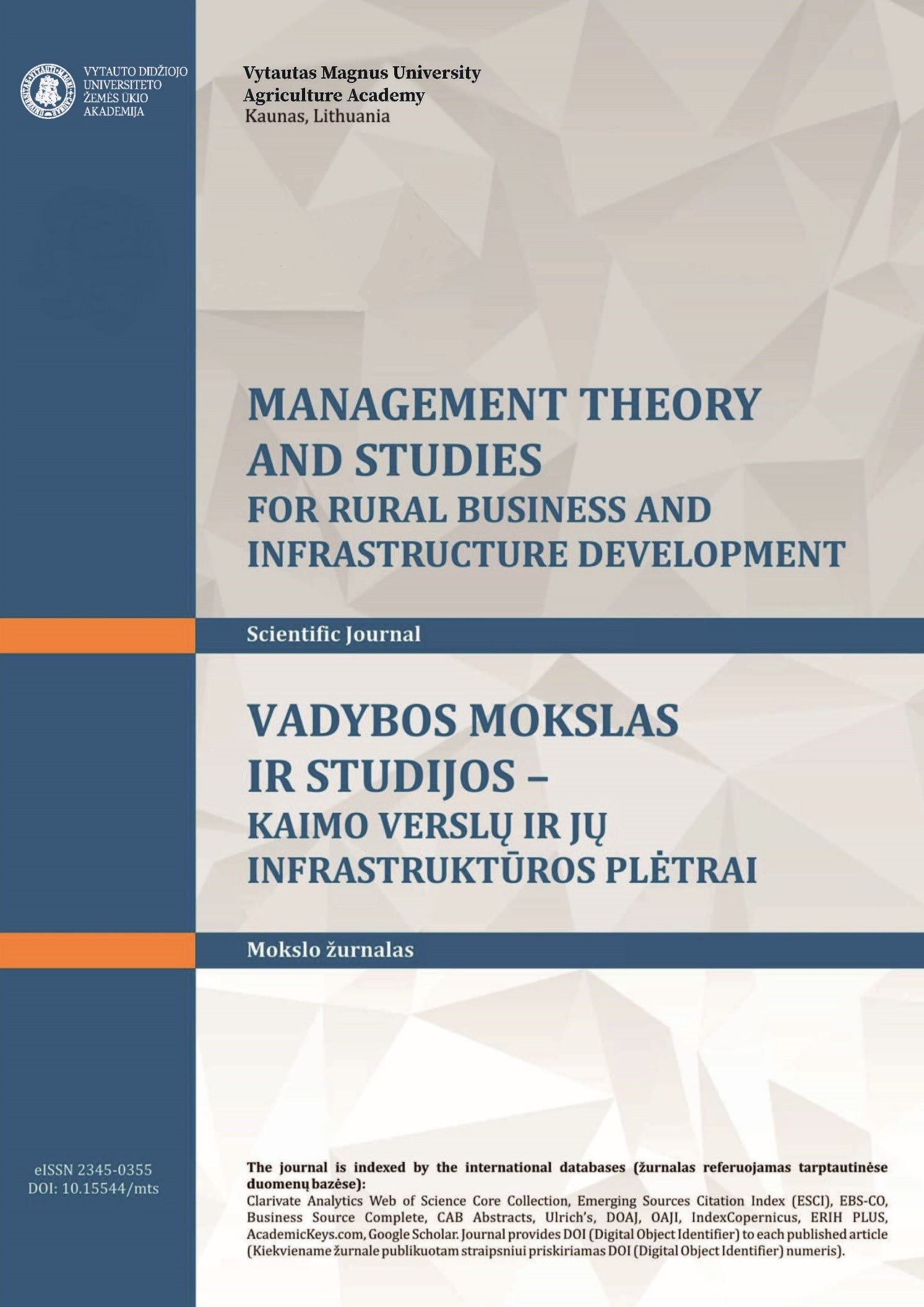 Downloads
How to Cite
Sirenko, N. ., Lunkina, T. ., Burkovska, A. ., Mikulyak, K., & Gannichenko, T. . (2021). SOCIALIZATION OF EDUCATION AS A MEANS OF CHANGE OF THE PARADIGM OF SUBJECTS DEVELOPMENT OF THE AGRICULTURAL SECTOR OF ECONOMY. Management Theory and Studies for Rural Business and Infrastructure Development, 42(4), 441–451. https://doi.org/10.15544/mts.2020.45