PRIVATE SOCIAL INVESTMENTS AS A SOLUTION FOR RURAL DEVELOPMENT
Mykhailo Dyba

Kyiv national economic university

Iuliia Gernego

Kyiv national economic university
Keywords:
Investments, private social investments, rural business, rural development.
Abstract
One of the greatest challenges for rural areas competitiveness is lack of their investment at-tractiveness. Therefore, the research problem lays upon disclosing the importance of private social investments for rural development. The paper aims to develop measures to activate private social investments in Ukrainian rural areas. The study is performed through a comparative analysis of an appropriate Lithuanian and Polish experience and a case study of Monsanto Company that is one of the few social responsible rural businesses in Ukraine. The results section represents findings to determine the current experience of social investments and recommendations how to improve the situation in Ukrainian rural areas. In particular, the rural areas require changing the state role from the direct investor into rural development manager, implementing project approach benefits.
Downloads
Download data is not yet available.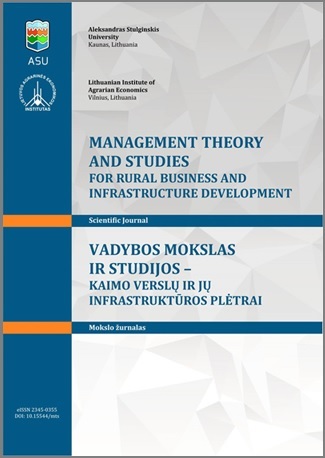 How to Cite
Dyba, M., & Gernego, I. (2018). PRIVATE SOCIAL INVESTMENTS AS A SOLUTION FOR RURAL DEVELOPMENT. Management Theory and Studies for Rural Business and Infrastructure Development, 40(3), 320–328. Retrieved from https://ejournals.vdu.lt/index.php/mtsrbid/article/view/112