Experiences of Children and Adults in Festivals Organised in Early Childhood Education Institutions
Birutė Autukevičienė

Vytautas Magnus University, Lithuania

Edita Balčiūnaitė

Vytautas Magnus University, Lithuania
Keywords:
early childhood education, child, festivals, narratives, experiences
Abstract
Every early childhood education institution allocates considerable attention to nurturance of national traditions and values of spiritual culture and organises traditional events, festivals, projects and other events every year. Calendar and national festivals are also celebrated. The goal of the research was to reveal and analyse the experiences of children, teachers and other adults that they go or went through during the festivals organised in early childhood education institutions.
The research methods: scholarly literature analysis, its systemisation and generalisation; narrative research employing a semi-structured interview with adults and teachers and an interview with children; narrative qualitative data analysis.
The narrative research included 10 participants: 4 teachers, 3 early age children and 3 adults, who attended early childhood education institutions in their childhood.
The research data show that similar aspects are found in the narrations of all participants, which can be grouped into five main themes of narrations: emotions, impressions, teacher support, cultural experience and parents' participation. The analysis of experiences obtained by the participants in the research allows stating that festivals in early childhood education institutions are usually only performances for parents. This causes both positive and negative emotions of research participants. The participants in the research remember not only the experienced emotions but also the first impressions, which are evoked by a certain surprise, new experience or an exceptional occurrence. The article also discusses the parents' role in the kindergarten festivals, teacher's activities and analyses cultural experience, which is acquired by early age children during such festivals.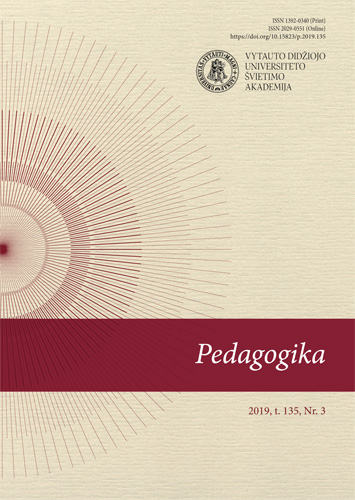 How to Cite
Autukevičienė, B., & Balčiūnaitė, E. (2019). Experiences of Children and Adults in Festivals Organised in Early Childhood Education Institutions. Pedagogika, 135(3), 139-162. https://doi.org/10.15823/p.2019.135.8
Copyright (c) 2019 "Pedagogika", Authors
This work is licensed under a Creative Commons Attribution 4.0 International License.