Punctuation-related Issues in Essays of Lithuanian Language and Literature State Matura Examination
Laimutė Bučienė

Vytautas Magnus University, Lithuania
Keywords:
essay, punctuation, punctuation mark, punctuation mistake, Lithuanian language and Literature State matura examination
Abstract
The research object of this article is the essays written during the Lithuanian language and Literature State matura examination in 2019. The aim of the research is to investigate the essays from the perspective of punctuation, identify the most common punctuation mistakes based on the applicable punctuation norms and present methodological recommendations concerning the teaching/learning of punctuation of various syntactical units in the comprehensive school.
The quantitative study of the essays confirmed the insights provided by earlier studies concerning a strong tendency of deteriorating pupils' punctuation skills. By their frequency the mistakes of punctuating the clauses in a complex sentence significantly exceed other mistakes. More troublesome cases include the punctuation of attributes, parentheses and explanatory parts of the sentence. Unmotivated punctuation, which is not based on the internal structure of the sentence, is also rather common in the language practice of pupils. The high number of such mistakes is determined by the poor skills of syntactical and punctuation analysis. Apparently, the overestimation of intonation as a punctuation criterion plays an important role in the occurrence of mistakes.
The compulsory punctuation rules are mainly based on syntax. Therefore, it is very important to strengthen the skills and abilities of syntactical analysis. The source of mistakes is both the lack of and poor knowledge of the rules. It is important to make pupils aware that the variety of the variants of optional punctuation is only useful for those who are well versed in punctuation and understand which rules are elementary, compulsory and helping to grasp the thought and which only show its nuances and a different intonation.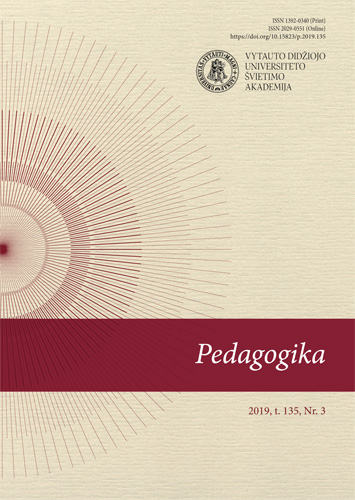 How to Cite
Bučienė, L. (2019). Punctuation-related Issues in Essays of Lithuanian Language and Literature State Matura Examination. Pedagogika, 135(3), 122-138. https://doi.org/10.15823/p.2019.135.7
Copyright (c) 2019 "Pedagogika", Authors
This work is licensed under a Creative Commons Attribution 4.0 International License.