Identity-oriented English Language Teachers' Education Programs as the Arena of Becoming a Glocal English Language Teacher
Hussein Meihami

Shiraz University, Iran
Keywords:
identity-oriented, action research, reflective practice, glocal education
Abstract
The purpose of the current study is to investigate the potentials of identity-oriented English language teachers' education programs in developing the glocal identity of English language teachers through examining the perspectives of the EFL teacher educators. Given that, the main features of glocal identity teacher education program were obtained by examining their perspectives. These features are addressing reflective pedagogy, bridging the gap between theory and practice, involving English language teachers in action research, and developing English language teachers' critical thinking skills in teacher's education programs.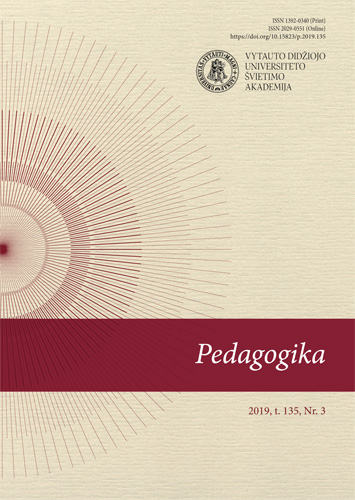 How to Cite
Meihami, H. (2019). Identity-oriented English Language Teachers' Education Programs as the Arena of Becoming a Glocal English Language Teacher. Pedagogika, 135(3), 71-84. https://doi.org/10.15823/p.2019.135.4
Copyright (c) 2019 "Pedagogika", Authors
This work is licensed under a Creative Commons Attribution 4.0 International License.