Educational Contexts Creating by Pre-School Teachers: Environment as a Third Educator
Keywords:
Educational context, pre-school teacher, the Reggio Emilia approach, environment as a third educator
Abstract
In this article, creating educational contexts by transforming the learning environment into a third educator is explored. This article, based on the Reggio Emilia approach, reveals the ways in which spaces in the educational institution can be interpreted, prepared and created to encourage children to explore and express themselves. This study presents the concept of a modern educational space and focuses on these aspects: educational provocations and invitations; the use of materials and tools to create them; learning documentation and learning visibility; and the nature of the adult-child dialogue.
A qualitative research model was applied. Data was collected from literature studies and narrative interviews with pre-school teachers. The study included 12 participants and criteriabased selection was applied, with thematic analysis being used to analyse the data (Soderberg, 2006). The analysis highlighted the following topics: the change in the role of the teacher, the nature of the child's activities, and the process of creating contexts. The results indicated that the context helps to engage the child and establish an authentic "dialogue" between the child and the materials and tools used, which is then developed with the adult. Educational contexts help develop the creation of an educational environment and allow teachers to create unique learning situations in any scenario.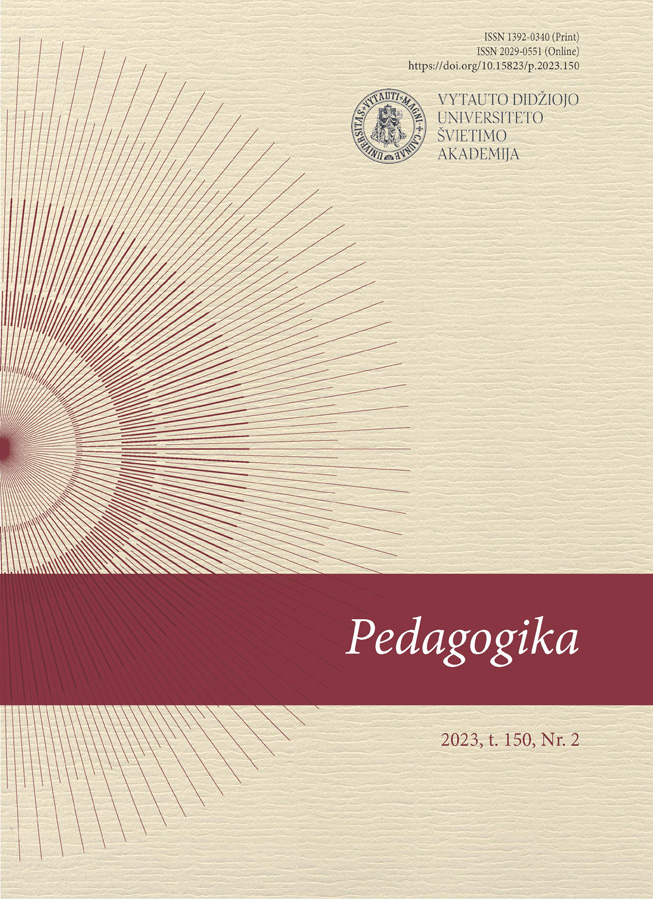 Downloads
How to Cite
Lapėnienė, A., & Ligita Neverauskienė. (2023). Educational Contexts Creating by Pre-School Teachers: Environment as a Third Educator. Pedagogika / Pedagogy, 150(2), 75–101. https://doi.org/10.15823/p.2023.150.5
License
Copyright (c) 2023 Asta Lapėnienė, Ligita Neverauskienė
This work is licensed under a Creative Commons Attribution 4.0 International License.