Qualitative Advancement in Inclusive Education in the Context of Societal Development: Dialectical Modelling
Keywords:
integracija, įtraukusis ugdymas, universalus dizainas ugdymui, specialusis ugdymas
Abstract
By applying a qualitative method of dialectical modelling, the following three models of inclusion are analysed: integration, inclusive special education, and universal design for learning. The prerequisites significant for the implementation of each model are tested by contradicting them against other models, in order to reveal education components and their connections that either strengthen or impede the qualitative evolution of inclusive believes and practice.
The results of integrated education analysis underline the impulse of societal movement that encouraged the development of processes of inclusion and the restructuring of educational system; however, at the same time, they reveal the possibility of tension due to the desynchronization between various components of social and educational system. The reduction of tension and the sustainability of inclusive evolution requires the harmonisation of social believes and cultural experience.
The analysis of the "Inclusive special education" model shows that any polarized attitude and educational effort towards different groups of pupils generates barriers for ensuring successful learning for all the pupils and shapes elements of educational segregation. In overcoming this barrier, the change in educators' attitude and practice is significant, embracing the entirety of the learners and giving priority to professional co-operation.
The connections between the components of universal design for learning model allow to cover the whole of the variety of learners and to aim at personal success for every pupil. A universal educational environment that corresponds with the variety of educational needs is the core precondition for a good quality inclusive education.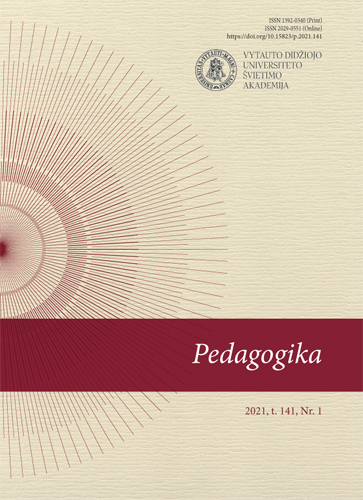 Downloads
How to Cite
Galkienė, A. (2021). Qualitative Advancement in Inclusive Education in the Context of Societal Development: Dialectical Modelling. Pedagogika, 141(1), 190–213. https://doi.org/10.15823/p.2020.141.11
License
Copyright (c) 2021 Authors
This work is licensed under a Creative Commons Attribution-ShareAlike 4.0 International License.