Meta-Learning in Primary Education: A Scientific Literature Analysis
Keywords:
primary education, meta-learning, metacognitive strategies, metacognitive awareness, metacognition in childhood
Abstract
The article analyses the self-study of primary school students, aims to name the applied meta-learning methods, the challenges that arise and the further direction of research that would allow developing the application of meta-learning in primary education. The research aim – to reveal what research is being carried out, what we know about the self-study of primary education students in Europe and other countries.
Research data and theoretical reviews from electronic education databases of Academic Search Complete (EBSCO), Cambridge Core, Education Source (EBSCO), ERIC and Science Direct were analysed in order to achieve the aim of the research. To create an overview of different studies, the articles were content-encoded by briefly describing the main features and results of each study.
The results of the scientists of educational science research allow stating that even at an early age, meta-learning has a positive impact on the development of children in the fields of reading, language learning, math, science and problem-solving. Based on the results of the study, there is need to promote meta-learning as a tool to develop cognitive and metacognitive skills and to face the challenges of learning in the 21st century. The analysis and conclusions of scientific sources are provided in the article as a base for further studies on meta-learning, aiming that this learning paradigm would be developed and would allow to overcome the emerging difficulties of learning and become individuals who know how to learn.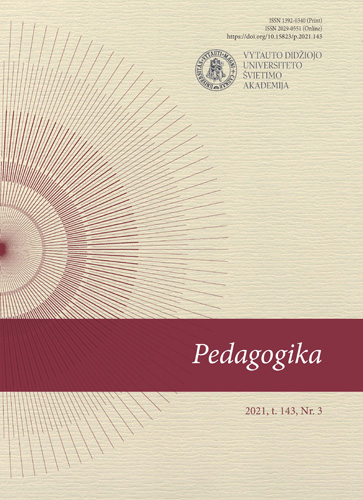 Downloads
How to Cite
Matulaitienė, J. (2023). Meta-Learning in Primary Education: A Scientific Literature Analysis. Pedagogika, 143(3), 86–107. https://doi.org/10.15823/p.2021.143.5
License
Copyright (c) 2021 Pedagogika
This work is licensed under a Creative Commons Attribution 4.0 International License.