Aesthetic Paradigm of Art: a Role in Shaping Human Future
Maria Aleksandrovna Semenova

Moscow City University, Russian Federation

Maria Alexandrovna Bykovskaya

Moscow City University, Russian Federation
Keywords:
aesthetic development, artistic creativity, aesthetic paradigm of art, art, educational activities
Abstract
In this paper, the authors explain the developed and tested aesthetic paradigm of art. This paradigm allows knowledgeably building effective work on the aesthetic development of children at various levels of their education and taking into account modern trends in education and development of the human future.
On top of that, the structural components of the paradigm have been defined, a summary of each of the components has been given, and the conditions for the effective implementation of the aesthetic paradigm of art have been explained.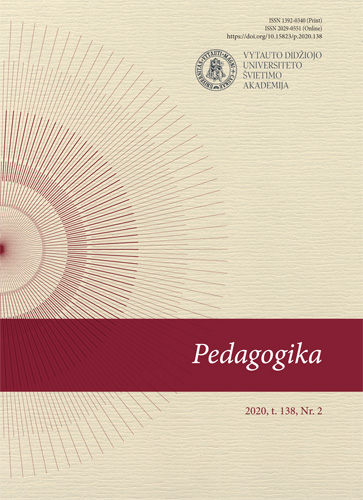 How to Cite
Semenova, M. A., & Bykovskaya, M. A. (2020). Aesthetic Paradigm of Art: a Role in Shaping Human Future. Pedagogika, 138(2), 116-130. https://doi.org/10.15823/p.2020.138.7
Copyright (c) 2020 "Pedagogika", Authors
This work is licensed under a Creative Commons Attribution 4.0 International License.