The Size of the Native Lithuanian Vocabulary of the 11th Grade Students
Rugilė Miškinytė

Vilnius University, Lithuania

Loreta Vilkienė

Vilnius University, Lithuania
Keywords:
vocabulary size, native speaker, Lithuanian language, 11th grade student, gender factor
Abstract
The aim of this research was to measure the vocabulary size of native speakers of Lithuanian language attending the 11th grade in small cities and to compare the results with the research conducted in Vilnius schools. This paper aimed to find out whether the place of residence and the gender factor have a statistically significant influence on the size of the vocabulary and discover if any sociolinguistic factors can impact it. The research material consisted of 242 responses given to a sociolinguistic survey and vocabulary size test. T-test and regression analysis were applied in the research.
The results of the study indicated that the average vocabulary of an 11th grade student consists of approximately 51,400 lemmas. Vilnius school students have an average vocabulary size of about 52,800 lemmas; the vocabulary size of small towns students is lower – 50,000 lemmas. The T-test statistical analysis has revealed that the difference in the mean size of the vocabulary across genders is statistically significant (p = 0,011). It was found out that the vocabulary size of students living in Vilnius is statistically significantly bigger than that of students in the smaller cities (p = 0,002). The regression analysis indicated that gender can affect the vocabulary size. The analysis showed statistical significance (p = 0,004) that watching movies in the Lithuanian language can impact the vocabulary size of students living in small towns.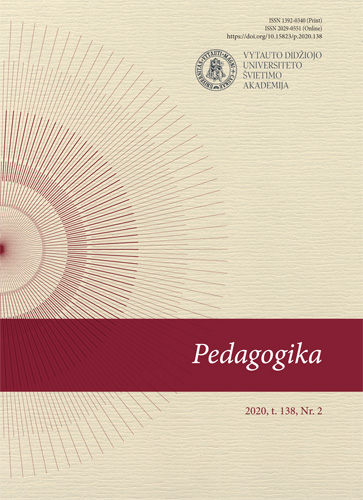 How to Cite
Miškinytė, R., & Vilkienė, L. (2020). The Size of the Native Lithuanian Vocabulary of the 11th Grade Students. Pedagogika, 138(2), 61-79. https://doi.org/10.15823/p.2020.138.4
Copyright (c) 2020 "Pedagogika", Authors
This work is licensed under a Creative Commons Attribution 4.0 International License.