The days and deeds of Leonas Gudaitis and Rimvydas Šilbajoris (1995–2000)
Keywords:
Leonas Fliorentas Gudaitis; Rimvydas Pranas Šilbajoris; Vytautas Magnus University; "Darbai ir dienos"; Studies; Scholars; Students; Letters; Correspondence
Abstract
This paper discusses the correspondence that took place from 1995 to 2000 between Professor Leonas Fliorentas Gudaitis, for many years the chairman of the department of Lithuanian literature at Vytautas Magnus University as well as a journalist and editor of the scholarly journal "Darbai ir dienos" ("Deeds and Days"), and Professor Rimvydas Pranas Šilbajoris, a Lithuanian literary scholar active in the United States. Their letters touch on various topics: the university's environment for scholarship and studies, especially doctoral studies, the subtelties of editing "Darbai ir dienos", and thoughts about the journal's scholarly format and contents. There are 39 letters overall, 18 of them authored by Gudaitis, while the rest come from Šilbajoris's pen. The nearly identical quantity of letters sent and received allows us to speak of the dialogical nature of these texts, which becomes evident if these letters are published chronologically, as we have done here. This publication lets us get a better view of certain fragments of Gudaitis's academic life. The published letters reveal different though mutually connecting perspectives, bringing out one more way of looking at Vytautas Magnus University's past, the people who worked and studied there, and their academic environment.
Downloads
Download data is not yet available.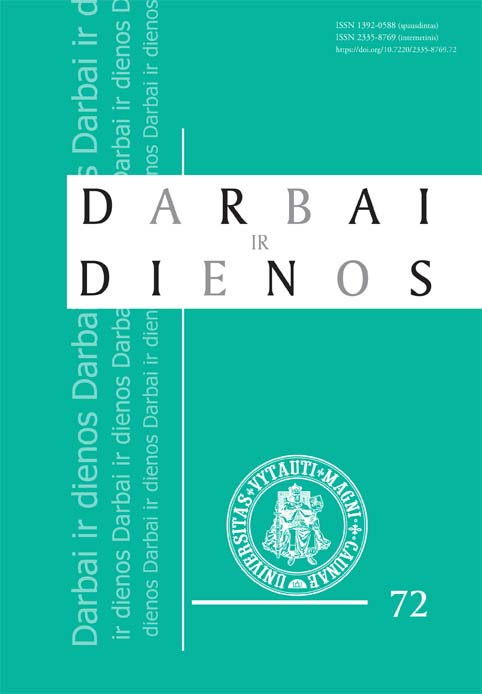 Downloads
How to Cite
Bucevičiūtė, L. (2020). The days and deeds of Leonas Gudaitis and Rimvydas Šilbajoris (1995–2000). Deeds and Days, (72), 159–206. https://doi.org/10.7220/2335-8769.72.11