A wife who writes: aesthetic and social aspects of self-reflection in women's diaries
Keywords:
Autobiographical writing; Women's writing; diary; Latvian culture; Marija Eglīte; Lidija Gulbe
Abstract
The focus of the article1 is to look at diaries kept by women before WWII who were wives of popular and/or important men of the time. The two authors and their diaries I use for a case study have in common the fact that the husbands were in some way ideological leaders of their time while the diaries show differences in structure, regularity, and message. Marija Eglīte (1878–1926) was the wife and a muse of the poet Viktors Eglītis, who in the early 20th century aggressively introduced modernist and decadent poetics to Latvia. Lidija Gulbe (1899–?), the wife of the poet Fridrihs Gulbis, was also a modernist but part of a later sort of modernism that formed in the 1920s and 1930s, when a group of young artists and writers established a society and a journal entitled "Green Crow" (Zaļā Vārna). The time period which is essential because of great social and political changes (modernization, Europeanization, WWI, the establishment of an independent state, etc.) is mostly reflected through the eyes and autobiographical narratives written by males but most of the women's diaries as testimonies are not yet transcribed and published, although there are some important initiatives and situation changes coming about in Latvia.
Downloads
Download data is not yet available.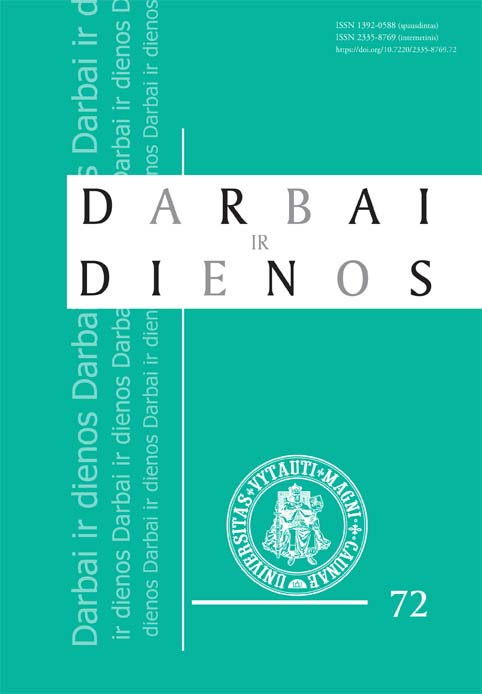 Downloads
How to Cite
Eglāja-Kristsone, E. (2020). A wife who writes: aesthetic and social aspects of self-reflection in women's diaries. Deeds and Days, (72), 119–126. https://doi.org/10.7220/2335-8769.72.7