The editorial principles of professor Leonas Gudaitis
Keywords:
"Deeds and Days"; Literaturology; Editing; Norms of language use; Stylistic variations
Abstract
The first issue of Vytautas Magnus University's scholarly journal "Deeds and Days" ("Darbai ir dienos") was published in 1930. After being discontinued during the Soviet occupation, its publishing was resumed in 1995. Professor Leonas Gudaitis (1935–2019) edited the revived scholarly publication Deeds and Days for more than a decade: from 1994 until 2006. In total, 36 volumes (no. 1 (10)–45) were prepared, their size being 20 or more printer's sheets. The rich legacy of their editing is unquestionable: VMU Library holds the files of these publications, in which the scholarly editor's work is documented starting from the idea for the creation of thematic volumes and ending with the final version. The plans for the thematic volumes, the edited texts of the authors, and the proof-read versions are all presented. The professor's entries attest to the focus on the graphical expression in addition to the written text: the scope of Gudaitis's work included artistic editing. This article is limited to the stylistic editing of the journal: the corrections of its vocabulary and syntax. There is a particularly strong focus on stylistic variations; explorations of what was corrected and why; and discussions of how the editorial principles could be defined. The analysis reveals that Gudaitis avoided stylistic monotony and stock expressions above all else and sought to ensure the text was brisk, rich, and succinct.
Downloads
Download data is not yet available.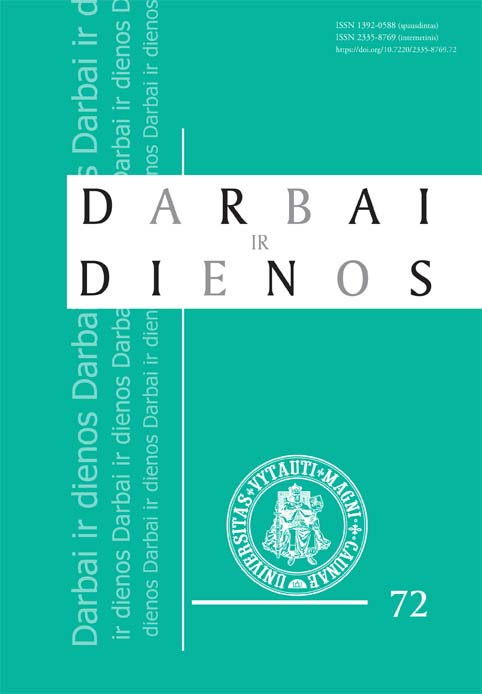 Downloads
How to Cite
Mykolaitytė , A. (2020). The editorial principles of professor Leonas Gudaitis. Deeds and Days, (72), 77–87. https://doi.org/10.7220/2335-8769.72.4