Translation of Manfred Klein's article "From an Inviter to a Court Master (Platzmeister). On the Bilingual Life in Prussian Lithuania"
Keywords:
Linguistic contacts between the German and Lithuanian languages, Lithuanianisms in German, Friedrich Tribukeit's family chronicle
Abstract
In his article, Manfred Klein analyses the coexistence of the German and Lithuanian languages in the village of Christiankehmen in Eastern Prussia in the 19th century. He grounds his analysis on Friedrich Tribukeit's family chronicle, written in 1870. The chronicle contains many Lithuanianisms that were used in the villagers' speech. These include topographic names, names of village houses, objects and festivals. On the other hand, the influence of German culture led to the introduction of many German words into the Lithuanian language of the villagers in Christiankehmen: for example, the word "invitor" used for a person who invites guests to a wedding was gradually changed by another word – a "court master" (Platzmeister). Manfred Klein draws the conclusion that, due to linguistic contacts, Lithuanianisms found their place as provincialisms in the German language of Eastern Prussia.
Downloads
Download data is not yet available.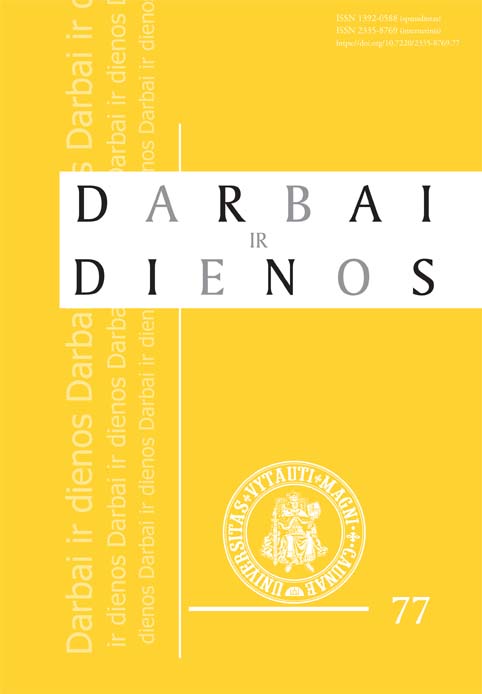 Downloads
How to Cite
Barniškienė, S. (2022). Translation of Manfred Klein's article "From an Inviter to a Court Master (Platzmeister). On the Bilingual Life in Prussian Lithuania". Deeds and Days, 77, 161–177. https://doi.org/10.7220/2335-8769.77.9