The types of Russian dissidents before and after the collapse of the Soviet Union
Keywords:
Dissidents, Kremlin critics, Russia, Soviet Union, Ukraine
Abstract
This article analyses statements, attitudes and values of Russian dissidents and public Kremlin critics. Concrete personalities have been chosen: classic soviet dissident Vladimir Bukovski, journalist Alekseij Navalnij, historian Jurij Dmitrijev, writer Aleksander Solzhenytcin, chess world champion Gary Kasparov, punk rock Pussy riots members Nadezhda Tolokonikova, Marija Aliochina and Jekaterina Samucevič, businessman Michail Chodorkovski, public intellectual and TV actor Aleksander Nevzorov, Yakutia (Siberia) shaman Gabishev. The difference between classic dissidents and public critics of Vladimir Putin's regime is analyzed. Attention is given to the fact that today is hard to talk about dissidents in the same sense as it was used to do it in the Soviet Union times. The article includes discussion about the danger of Kremlin's critics to become political prisoners and how the regime of Putin today has speeded up repression of freedom of speech. Especially after February 24th, 2022 when Russian army invaded Ukraine. The beginning of the article defines what is a dissident, then later the article provides a distinction between a dissident and public Kremlin's critic. The latter, who as a critic of Russian President Putin's authoritarian regime, does not necessarily is a dissident. At the end of the article the dissidents and public critics of contemporary Kremlin's authoritarian regime are grouped according to their status and demands for Putin to step down from the office. The author concludes that contradictions among values of the dissidents and public Kremlin critics show ideological differences, due to what one should not expect Russia to become like European Union in terms of legal and political standards even if/when the regime changes.
Downloads
Download data is not yet available.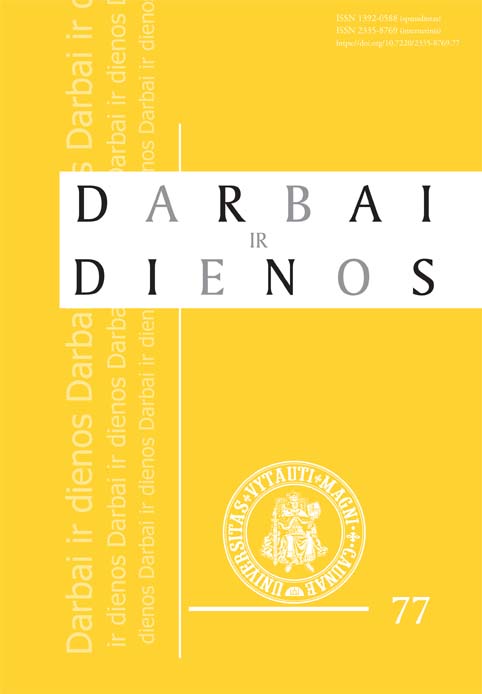 Downloads
How to Cite
Kavaliauskas, T. (2022). The types of Russian dissidents before and after the collapse of the Soviet Union. Deeds and Days, 77, 101–122. https://doi.org/10.7220/2335-8769.77.6