The letters of Eustachijus Valavičius and Leonas Sapiega to and from Justus Lipsius
Keywords:
Justus Lipsius; Correspondence; Letters; Eustachy Wołłowicz (Eustachijus Valavičius); Lew Sapieha (Leonas Sapiega)
Abstract
The spread of humanist ideas that had arisen across Europe also reached the intellectuals of the Grand Duchy of Lithuania. A close correspondence was maintained with one of the European humanists, Justus Lipsius. This article presents a biography of Lipsius and examines the particulars of his letters to and from two Lithuanian intellectuals: Eustachijus Valavičius, who later became the Bishop of Vilnius, and Leonas Sapiega, who was the Chancellor of Lithuania and later served as its Grand Hetman. The purpose of the article is to determine the significance of this correspondence in the context of intercultural relations between Lithuania and Holland. To explore this topic, two tasks were identified: first, to identify the role in these epistolary dialogues of the individuals thanks to whom the contact with Lipsius was established; second, to compare the fundamental similarities and differences of the language used in the letters. The letters written by Valavičius and Sapiega to Lipsius and the answer written by Lipsius to Valavičius, kept in the archives of Leiden University, are examined in the article. In addition, the characteristics of Lipsius's letters are detailed in the article and the history of the letters is reviewed. It is determined in the article that these correspondents who wished to write a letter to Lipsius made use of intermediaries who were well-acquainted with the humanist. Considerable attention is paid to such intermediaries in the letters. Moreover, when analyzing the letters, demonstration of very warm feelings is quite noticeable. It is claimed in the article that the correspondence with the Lithuanian intellectuals occurred relatively late in Lipsius's life, and his death ended the communication that had only just begun to develop with Lithuanian intellectuals.
Downloads
Download data is not yet available.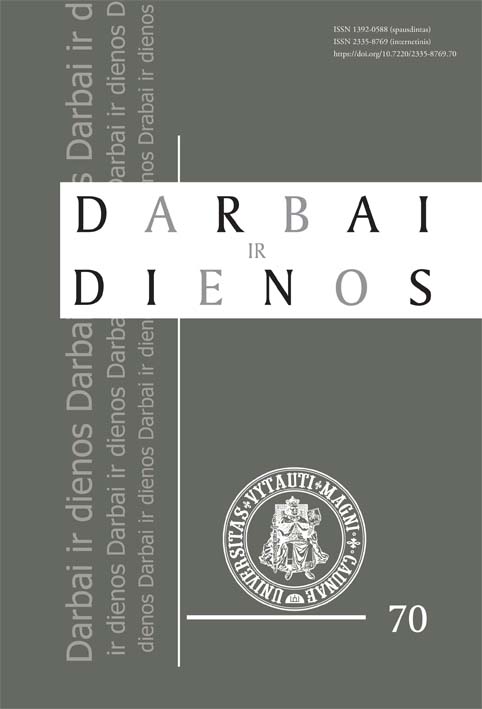 How to Cite
Grinčalaitis, V. (2019). The letters of Eustachijus Valavičius and Leonas Sapiega to and from Justus Lipsius. Deeds and Days, (70), 235-250. https://doi.org/10.7220/2335-8769.70.11