Thought and action: two wings of Vytautas Kavolis in the sky of Lithuanian sociology
Keywords:
Vytautas Kavolis, Algimantas Valantiejus, Lithuanian sociology, Thought and action, Problem of trust;Structure of civilizational action
Abstract
After Lithuania regained its independence, scientists working in various fields began to consider the issues of their identity and future direction. Vytautas Kavolis' periodic lectures and presentations at Lithuanian universities could have become an impetus to broaden horizons for researchers in the social sciences and the humanities. Inspired by Kavolis, in 1997 the sociologist Algimantas Valantiejus started publishing a journal in the field of sociology. At the suggestion of his Lithuanian-American colleague, the journal was named Sociology. Thought and Action. This article is intended to show the impact that Lithuanian sociology received both directly and indirectly as well as the sociology that Kavolis might have created. In order to achieve this goal, the discussion is concentrated on the concept of action, the detailed disclosure of which also explains Kavolis' commitment to sociology. However, since theoretical arguments in Kavolis' mind always kept pace with the scholar's moral attitude, the impact on Lithuanian sociology must be considered in conjunction with the requirements of values, that is, confidence, self-reflection, and criticism within the system.
Downloads
Download data is not yet available.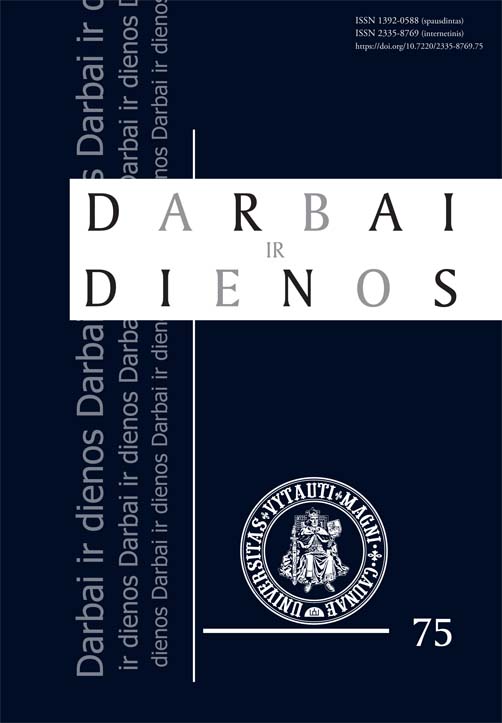 Downloads
How to Cite
Varnauskaitė, L. (2021). Thought and action: two wings of Vytautas Kavolis in the sky of Lithuanian sociology. Deeds and Days, 75, 127–134. https://doi.org/10.7220/2335-8769.75.8