Lithuanian diplomatic culture: sketching a heroic diplomacy
Keywords:
Lithuanian diplomacy, Diplomatic practice, Diplomatic culture, Heroic scenario, Bureaucratic scenario, International community
Abstract
This article studies the contemporary Lithuanian diplomatic culture: the daily practices of the Lithuanian diplomatic service as a "community of practice," influencing experiences, ideas, norms, and values, as well as the meanings that diplomats assign to the international environment and their own mission. The analysis is based on theoretical and methodological tools, borrowed from diplomatic studies and the sociology of practices, and draws upon thirty-six semi-structured qualitative interviews with the Lithuanian diplomats and politicians, as well as other primary and secondary sources. The article concludes that the Lithuanian diplomatic culture is marked with heroic scenarios, which seek not so much a steady, thought-out and long-term integration of Lithuania into a peaceful regional and global co-existence, but rather visible, immediately effective actions which put Lithuania, its leaders and diplomats in a spotlight. These scenarios are sustained by the previous successful experience of such practices, as well as the relative politization and fragmentation of the diplomatic service. Such diplomacy is more one-sided and concentrated more on the demonstration of one's own national interest than on a multifaceted international dialogue which would aim to connect different states into one stable international community.
Downloads
Download data is not yet available.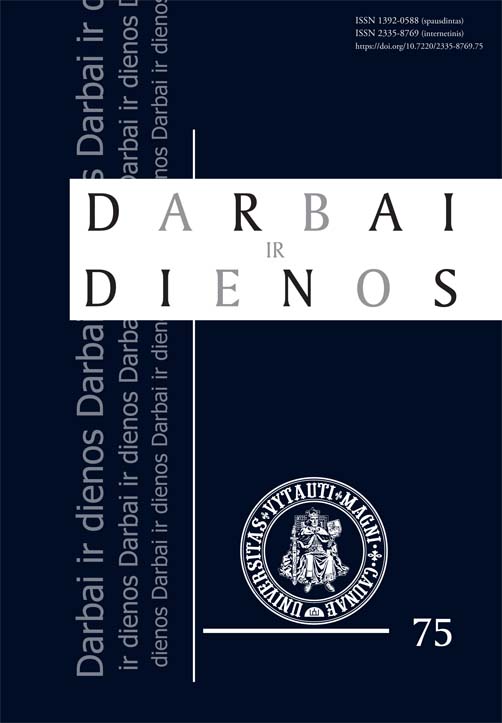 Downloads
How to Cite
Pundziute-Gallois, E. (2021). Lithuanian diplomatic culture: sketching a heroic diplomacy. Deeds and Days, 75. https://doi.org/10.7220/2335-8769.75.1