Imagism of expressionistic language in Almis Grybauskas's "Atklydimai"
Keywords:
Almis Grybauskas, Lithuanian poetry, Expressionism, Literary imagism, Defamiliarization
Abstract
The article aims to actualize the unresearched intrinsic features of expressionism and rectify the peculiarities of poet's writing style by analyzing the poetry of Almis Grybauskas's, a poet and translator, from his collection "Atklydimai" (1983). It presents expressionism in the context of a more extensive phenomenon, i.e. literay imagism. This article also takes into consideration the principle of defamiliarization that is typical to Grybauskas's poetic language. By analyzing 3 texts of his more closely, it exposes the function of expressionist stylistic devices (the creation of integrity of form and content, perspective (motifs of road and journey), the effect of 'vision' and awkwardness, the delay of understanding). In the course of analysis it becomes clear that Grybauskas's expressionism is set up not so much on visuality that is based on external effects (i.e., exogenous graphic form), as on the picturesqueness of language that is oriented towards the structure and the dynamic act of communication (i.e., its intrinsic features). And this allows one to associate Grybauskas's texts with the German expressionism tradition. The article also reveals that the articulation of expressionism in the texts written by the poet who made his debut in the late Soviet period essentially contradicts the aim of the socialist realism discourse to represent reality in a biased way. Grybauskas's poetry establishes an autonomous perception of reality, which enables the reader to see the structure that is made from language as a species of spiritual culture.
Downloads
Download data is not yet available.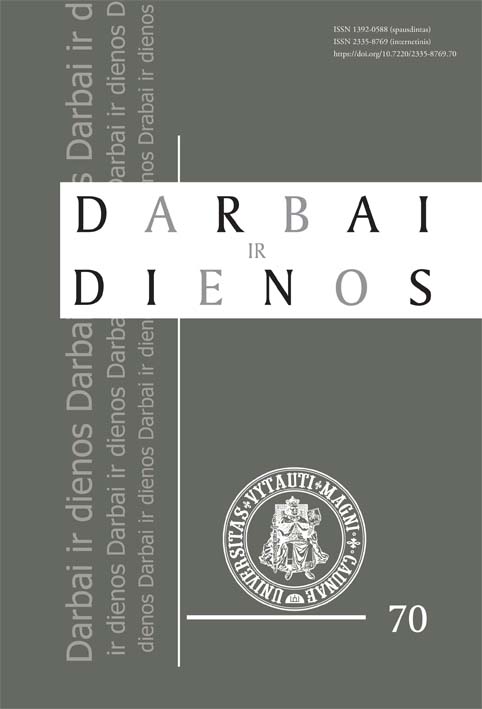 How to Cite
Butnoriūtė, N. (2019). Imagism of expressionistic language in Almis Grybauskas's "Atklydimai". Deeds and Days, (70), 57-75. https://doi.org/10.7220/2335-8769.70.3