Ontological and epistemological presuppositions of the concept of disability
Keywords:
Disability, The philosophy of disability, The norm, Ontological disabling, Intercorporality
Abstract
The aim of the paper is to present the contemporary problematics of the philosophy of disability, focusing mainly on the ontological and epistemological presuppositions of an ableistic culture. In this article, instead of being regarded as a natural biological given, disability is considered and explained as a cultural phenomenon (such an attitude is inherent in the entire philosophy of disability, which is here mainly represented by texts of Bill Hughes, Lennard Davis, and Margrit Shildrick). The first section gives a short account of the philosophical problem of the bodily norm (according to Davis, Michel Foucault, and George Canguilhem). The prevailing norms give rise to different concepts of disability in different cultures, resulting in various systems of categorization of human bodies (J. L. Scully). Speaking of the ontological presuppositions of the concept of disability, the term "ontological disabling" (coined by Hughes) is analyzed, with the phenomenon of excessive corporality being one of the ways such disabling takes place. This article links ontological disabling to radical spiritual and political movements engendering hierarchies of human nature (texts of Robert Esposito, Giorgio Agamben, and Sergei Prozorov are taken as grounds here). Epistemological presuppositions of the concept of disability are explained with the help of a critique of the subject as well as classical epistemology, developed in the philosophy of plasticity of Catherine Malabou and Tom Sparrow.
Downloads
Download data is not yet available.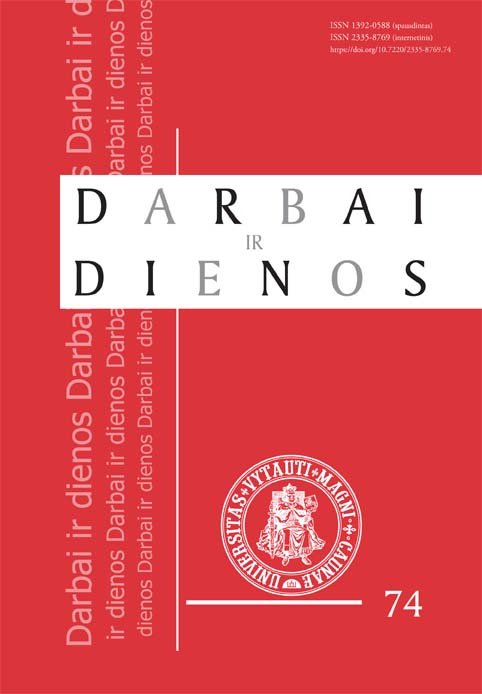 Downloads
How to Cite
Jonutytė , J. (2021). Ontological and epistemological presuppositions of the concept of disability. Deeds and Days, (74), 139–156. https://doi.org/10.7220/2335-8769.74.7