EFFICIENCY OF THE INNOVATIVE USE OF WASTE FROM FRUIT-AND-VEGETABLE PRODUCTION
Vita Vitaliivna Bugaychuk

Zhytomyr National Agroecological University

Inna Grabchuk

Assoc. Prof. Zhytomyr National Agroecological University

Vira Tymchak

Ph.D. in Agriculture, CEO of FG (Farm Enterprise) "Agroinnovatsiia"

Mykola Orlykovskyi

Assoc. Prof. PhD in Economics, Dean Millennium High School of Gniezno
Keywords:
bentonite, preserved apple pomace, profit, average daily gain of pigs, cost price
Abstract
Waste recycling is one of the priority directions of resource conservation in the agricultural sector. Modern innovations in the use of waste from fruit-and-vegetable production only partly contribute to resolving the contradictions between the growing needs of the population in high-quality food products and the limited production volumes of agricultural raw materials.
The scientific and practical results of the research are based on the monographic method used at the FG (Farm Enterprise) "Agroinnovatsiia" in Zastavniv district of the Chernivtsi region. The method concerns the innovative technology of preserving apple pomace in closed trenches using a natural sorbent, bentonite, and the replacement of a part of concentrates with the preserved apple pomace in feeding rations of pigs. The processing of empirical data by means of statistical and economic methods allowed substantiation of the reduction in the amount of fodder resources required per 1 hwt of gain by 2.2%, a 5.5% reduction in the cost price, and a profit increase by more than 2 times.
Downloads
Download data is not yet available.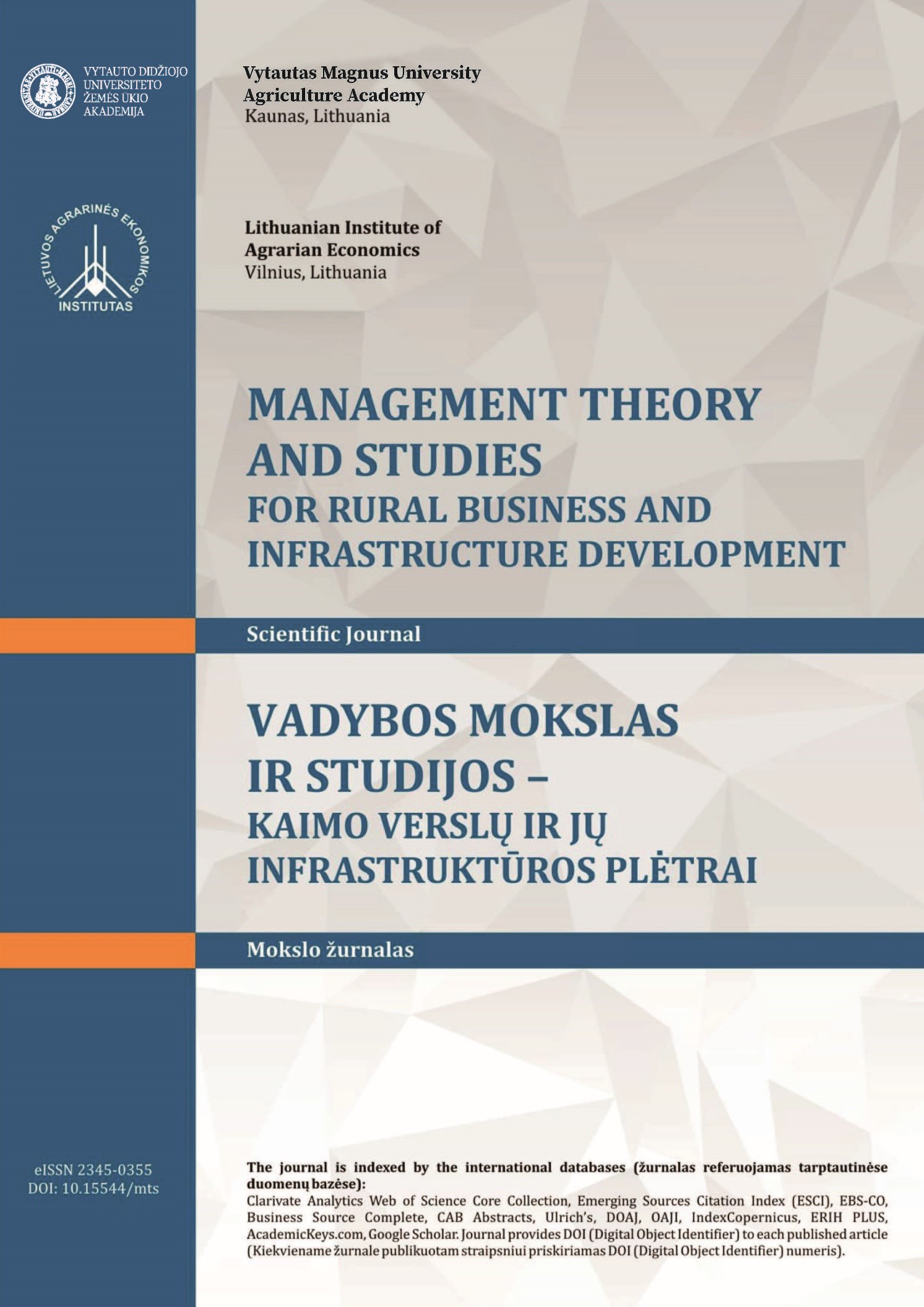 How to Cite
Bugaychuk, V. V., Grabchuk, I., Tymchak, V., & Orlykovskyi, M. (2019). EFFICIENCY OF THE INNOVATIVE USE OF WASTE FROM FRUIT-AND-VEGETABLE PRODUCTION. Management Theory and Studies for Rural Business and Infrastructure Development, 41(2), 183–196. https://doi.org/10.15544/mts.2019.16