CHALLENGES OF SUSTAINABLE DEVELOPMENT OF RURAL ECONOMY
Tetyana Zinchuk

Zhytomyr National Agroecological University

Nataliia Kutsmus

Zhytomyr National Agroecological University

Oleksandr Kovalchuk

Zhytomyr National Agroecological University

Olga Charucka

Academy of Finance and Business Vistula
Keywords:
rural economy, rural development, sustainable development.
Abstract
Rural areas play an important role in the national economy, the environment and society, contribute to the preservation of cultural heritage and the sustainable income of peasants. The growth of production rates by large agroholdings, which is mainly specialized on the crop production, does not contribute to the development of rural areas. The purpose of the article is to develop measures to ensure the sustainable development of rural areas. In the article, based on the method of comparative analysis, various aspects of programs on sustainable development of rural areas have been researched; economic development of rural territories for 2010-2016 has been studied on the basis of sociological and statistical data. The results of this research include the development of mechanisms for implementation of the sustainable development policy of rural areas, including promising directions of local areas development and innovative solutions to environmental and social problems.
Downloads
Download data is not yet available.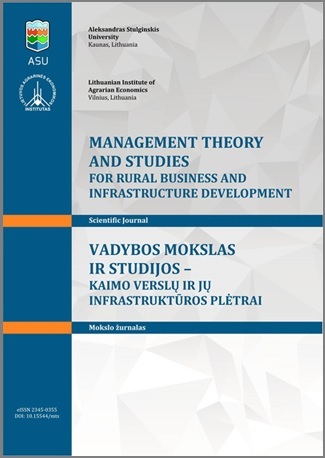 How to Cite
Zinchuk, T., Kutsmus, N., Kovalchuk, O., & Charucka, O. (2018). CHALLENGES OF SUSTAINABLE DEVELOPMENT OF RURAL ECONOMY. Management Theory and Studies for Rural Business and Infrastructure Development, 40(4), 609–619. Retrieved from https://ejournals.vdu.lt/index.php/mtsrbid/article/view/204