HIGHLY MARGINAL GOODS AS SOURCE OF EXPORT EFFICIENCY RISE IN AGRARIAN SECTOR
William H. Meyers

University of Bologna

Natalia Karasova

Kyiv National University of Culture and Arts

Olga Yatsenko

Kyiv National Economic University Named After Vadym Hetman
Keywords:
export, agrarian sector, highly marginal goods, raw materials, export commodity structure.
Abstract
Having high export potential, Ukrainian agrarian sector continues to be in the agricultural commodity market periphery. One of the key problems is low export efficiency determined by raw materials domination in the structure. The study aim was to ascertain a reorientation possibility of export commodity structure in order to reduce the raw materials part and increase the highly marginal goods part. The methodology consisted in studying the character of reciprocal influence comparison of different commodity groups volumes of agricultural produce using Verhulst's function. As a result, parameters of optimal goods correlation were designed, and a number of highly marginal goods and conceptual basis able to improve export efficiency were established.
Downloads
Download data is not yet available.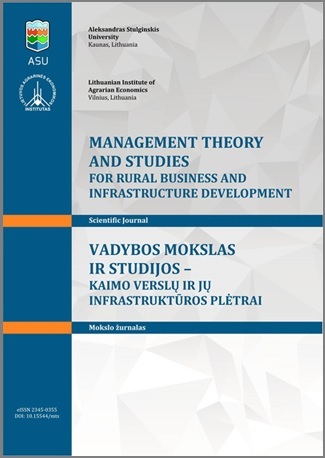 How to Cite
Meyers, W. H., Karasova, N., & Yatsenko, O. (2018). HIGHLY MARGINAL GOODS AS SOURCE OF EXPORT EFFICIENCY RISE IN AGRARIAN SECTOR. Management Theory and Studies for Rural Business and Infrastructure Development, 40(4), 577–586. Retrieved from https://ejournals.vdu.lt/index.php/mtsrbid/article/view/201