THE CONCEPT MODEL FOR ENSURING THE ECONOMIC SECURITY IN THE AGRARIAN SECTOR
Serhii Kozlovskyi

Vasyl' Stus Donetsk National University

Illya Khadzhynov

Vasyl' Stus Donetsk National University

Anastasiia Mohylova

Oles Honchar Dnipro National University

Viktor Tomchuk

Vasyl' Stus Donetsk National University

Andrii Kozlovskyi

Washington Miratech, Inc.
Keywords:
economic security, agrarian sector, concept, tools, mechanism, model.
Abstract
In the modern globalized world, the issue of ensuring the economic security in countries and sectors as the primary task of protection the national interests from different kinds of threats is par-ticularly relevant. The aim of the research is to develop tools for ensuring the economic security of agrarian sector. The object is the agrarian sector of Ukraine. The period under review is 2012–2017 years. The basis of the study is the data of the State Statistics Service of Ukraine. To evaluation the economic security indexes are used: gross domestic product; labor productivity in the agricultural sector. The ensuring the economic security of the agrarian sector requires the creation of such mech-anisms and instruments, which will assure an active investment and innovations activities, growth of production of competitive products, cost-effective operation of enterprises. The research offers a mechanism to ensure the economic security of the agricultural sector, which consists of the following units: information and analytical unit; regulatory influence unit; unit of counteraction to threats and control unit. Also, the relationship between these units in the structure of factors influencing the de-velopment of the agricultural sector has been established.
Downloads
Download data is not yet available.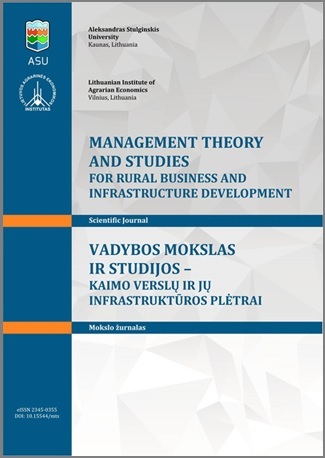 How to Cite
Kozlovskyi, S., Khadzhynov, I., Mohylova, A., Tomchuk, V., & Kozlovskyi, A. (2018). THE CONCEPT MODEL FOR ENSURING THE ECONOMIC SECURITY IN THE AGRARIAN SECTOR. Management Theory and Studies for Rural Business and Infrastructure Development, 40(4), 531–547. Retrieved from https://ejournals.vdu.lt/index.php/mtsrbid/article/view/199