THE CONCEPT OF RESEARCH ON LOGISTICS MANAGEMENT IN PUBLIC NETWORKS
Barbara Kożuch

Jagiellonian University in Krakow

Marzena Kramarz

Silesian University of Technology

Katarzyna Sienkiewicz-Małyjurek

Silesian University of Technology
Keywords:
Logistics management, logistics networks, network approach, public management, public networks.
Abstract
In contemporary public management, especially in the New Public Governance model, the network paradigm is increasingly underlined, which results from the growing importance of inter-organisational relations in the effective functioning of public organisations. However, the subject literature lacks well-established research, both theoretical and empirical, aimed at determining the importance of the network paradigm in improving public management oriented on the needs of citizens as members of the political and territorial community. Moreover, the role of logistics management in improving the effectiveness of public sector organisations is increasingly recognized, which creates interest in researching this issue (Kożuch et al., 2018). This article is an attempt to fill this research gap by developing the concept of research on logistics management in public networks. The developed (1) a map of relations in public networks and (2) a public institution sub-network model shall be used to this end.
Downloads
Download data is not yet available.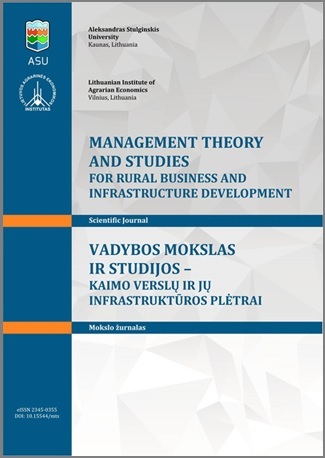 How to Cite
Kożuch, B., Kramarz, M., & Sienkiewicz-Małyjurek, K. (2018). THE CONCEPT OF RESEARCH ON LOGISTICS MANAGEMENT IN PUBLIC NETWORKS. Management Theory and Studies for Rural Business and Infrastructure Development, 40(4), 548–562. Retrieved from https://ejournals.vdu.lt/index.php/mtsrbid/article/view/146