DETERMINANTS OF ENTREPRENEURIAL INTENTION IN PERSPECTIVE OF THEORY OF PLANNED BEHAVIOUR
Temoor Anjum

Limkokwing University of Creative Technology

Nida Nazar

Limkokwing University of Creative Technology

Shiva Sharifi

Limkokwing University of Creative Technology

Muhammad Farrukh

Cyberjaya University College of Medical Sciences
Keywords:
Entrepreneurial Intentions, Theory of Planned Behaviour
Abstract
One of the biggest challenge faced by the developing countries such as Pakistan, is how to get their young people employed. In Pakistan myriad of lads are graduating from the universities every year, without corresponding job opportunities for them, consequently causing a diverse number of violence, crimes and many other social vices. Entrepreneurship can play an effective role in generating employment opportunities in the country which in turn help in reducing unemployment rate, alleviating poverty and improving livelihood. Thus, it has become a tinted area of for the researcher to study antecedents of entrepreneurial intentions. Therefore, the purpose of this study was to antecedents of entrepreneurial intention in perspective of theory of planned behaviour. For doing so, a deductive approach of logic was adopted and data were collected from 250 students with the help of structured questionnaire. Too empirically test the model, structural equation modelling technique was used with the help of SmartPLS software version 3.The findings supported all the hypothesized associations. This study contributed to practice and knowledge domain by endorsing the incorporation of Self efficacy and perceived risks into TPB model.
Downloads
Download data is not yet available.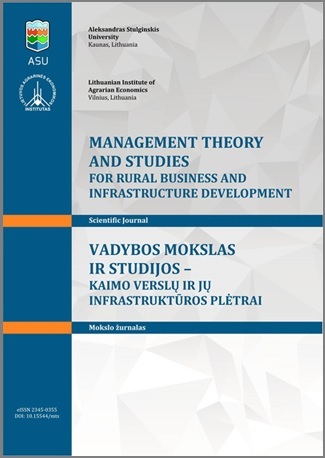 How to Cite
Anjum, T., Nazar, N., Sharifi, S., & Farrukh, M. (2018). DETERMINANTS OF ENTREPRENEURIAL INTENTION IN PERSPECTIVE OF THEORY OF PLANNED BEHAVIOUR. Management Theory and Studies for Rural Business and Infrastructure Development, 40(4), 429–441. Retrieved from https://ejournals.vdu.lt/index.php/mtsrbid/article/view/139